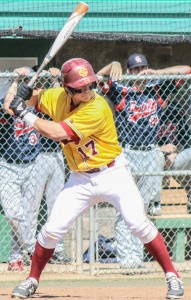 Tink! Tink! Tink! The sound of a metal bat hitting a baseball, over and over again. The smell of fresh cut grass. The sound of baseballs hitting mitts repeatedly. The sun overhead. This is where Robert Link feels his passion.
Link, 20, is a City College baseball player. He is the archetypal college athlete and represents the program here at Sac City the way it should be.
That all comes easy for Link, baseball is in his blood.
"He is an excellent example of what community college student-athletes should strive to be," says City College head baseball coach Derek Sullivan. "His future is bright."