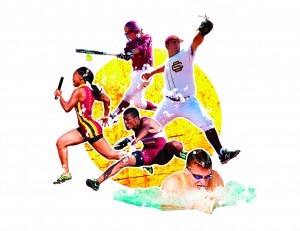 Another semester of students also means another semester of athletes.  The spring brought with it a fresh start via a new batch of players to City College teams.
After a tough rebuilding season in 2012 ended with an 11-26-1 record, the school's softball team's season has done a complete 180. The team started with a 9-0 record before suffering its first defeat of the season.
The team continued to pick up wins and finished the regular season with a 31-5 record. With another Big 8 Conference title under their belts, the 27th in school history, the team's members say they are hopeful about heading to the State Championship to possibly earn a fifth state title.
"We had goals before we started the season," says head coach Tim Kiernan, "[Get] an opportunity to win a state championship. That hasn't changed." The Panthers won their first playoff series against De Anza College and now prepare to go up against Sierra College.  Sophomores Molly Ryan and Heather Oakley, who were both named as All-Northern California selections, led the team at the plate and freshman Ashten Welch did the same on the pitcher's mound. Welch, finished the regular season with a 25-3 record for…» Read More