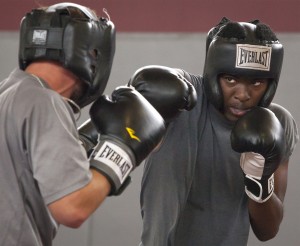 WHILE MANY STUDENTS ARE studying for finals, students in City College's boxing class are training for their last matches of the semester. According to Varie Walker, biology major and current student in the class, boxing students receive a final grade based on their performance in the final match.
However, because it is an amateur boxing match, there is no winner determined.
"In order to get a passing grade, you have to participate in two matches," says Walker. "Although the score is not kept, the crowd can pretty much tell who's winning if the match is sort of onesided."
City College boxing instructor Peter Pryor adds that students who take the course will be provided with a pair of gloves and headgear but must bring their own mouthpiece, jump rope and hand wraps.
"Because this is a beginning class, we steer towards amateur-style boxing," says Pryor.
In comparison to boxing, the sport of Mixed Martial Arts has become increasingly popular.
In MMA, fighters are allowed to use a mixture of striking and grappling, which includes standing and ground maneuvers. Pryor says the difference between boxing and Mixed Martial Arts is an emphasis on technical and defensive skills rather than knockouts as…» Read More