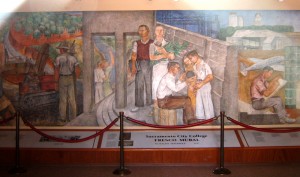 A number of changes welcomed faculty, staff and students back to City College this spring semester as the Downtown Center closes, the West Sacramento campus moves into its sleek, new facility and several departments relocate off of the main campus.
While the campus has already seen several campus upgrades over the last several years, there are plans to continue renovating college grounds and buildings over the next five years.
The Downtown Center officially closed during this past holiday break and on Jan. 6, merged with the new West Sacramento center located on West Capitol Avenue.
"I like the new West Sacramento Center a lot," said student Ana Ayon. "It's looks really nice and modern. And it's convenient because it only takes me two buses from my house."
However, because of the consolidation of these two facilities, many students may need to find other alternatives or take classes at a different City College center.
"It's a major change," said City College Director of Operations Greg Hayman. "One of the programs that actually moved out there is the Administration of Justice. The A.J. facility has relocated out to West Sac on the third floor and they're teaching most of the classes there….» Read More