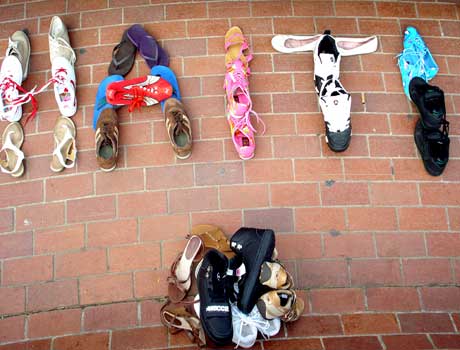 Additional reporting by Vincent Fernandez
Haitian people experienced a devastating earthquake Jan. 12 that shocked the nation. Although the country of Haiti is thousands of miles away from City College, it didn't take long for our small community on campus to reach out to those across the globe.
With the start of a new semester, City College students and faculty are doing everything they can to help Haiti by running donation drives such as Soles 4 Souls and Brick by Brick. Soles 4 Souls was a shoe drive that ran for two days on campus, organized by the Honors Club. Victoria Henderson, Cultural Awareness Center coordinator, is extremely grateful for the efforts and support City College has done for the country of Haiti.
"I think it's certainly a sad tragedy, but it's an important learning experience for all of us and I would like to thank all of you who participated in the shoe drive that we had. I want you to know Sacramento City College collected 1,200 pairs of shoes," says Henderson.
Along with two donation drives, the Cultural Awareness Center hosted an event called "Haiti: In the Aftermath of an Earthquake" in regards to the…» Read More