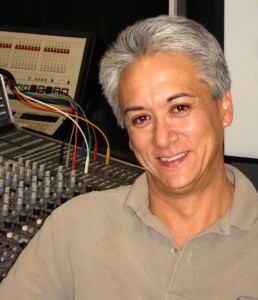 In a digital age when 2,000 over-produced MP3s can be stuffed in a pocket-sized iPod connected to cheap earbud headphones, there is a haven where music is not just a plastic commodity — and it's right here on campus.
Tucked away above a music department auditorium, a control room cramped with only seven people blasts the music of Lyle Lovett and Tom Waits. The instructor and students analyze the songs' production, dissecting the slightest discrepancies in sound, unrecognizable to the average listener.Professor Dean Rood offers an alternative to a passive, digital world through three courses in analog technology and studio recording, within the specializations emphasis in the City College Music Department. His students learn to appreciate music not as some formless, downloadable file, but as a tangible piece of artwork.
"Music has become a commodity," Rood says. "It's no different than anything else — a Web page or an Adobe file."In MUSM 354, the recording sessions workshop, students engineer weekly five-hour sessions with local bands. They get experience placing microphones, setting recording levels and giving artists feedback.
"By the end of it, you've created this something that never existed six hours ago," Rood says. "It's something new and it's unique,…» Read More