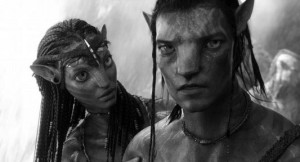 I put on my 3-D glasses and wait impatiently for the movie to start. Crunching sounds of popcorn and slurping soda sounds fill my ears, while adrenaline and anticipation fill my chest.
Yes, people, I'm watching "Avatar", and loving every single second if it. According to the Sacramento Bee, "Avatar" was ranked the top box office hit in January 2010 grossing nearly over $601.1 million, beating James Cameron's former big hit, "Titanic".
"Avatar", like "Titanic", pulls on the human heart strings and makes the person watching it feel as if they are living with the Na'vi people.
Cameron is a mastermind when it comes to filmmaking, because he does his homework. However, viewers became angry complaining Cameron's movie "Titanic" only focused on the love aspect of the film and not on the important historical event.
Many people criticized the heart-wrenching scene at the end of the film where Jack and Rose are on the "Titanic" as it begins to sink; Rose professes her undying love to Jack, right before he freezes and drowns.
The two worlds intertwine when the humans are on the Na'vi's land to strip the planet of its resources just as the humans did to earth.
Leaving…» Read More