Maxfield Morris
Editor-in-Chief
mmorris.express@gmail.com
The intimate space of the Kondos Gallery was filled Oct. 11 by a crowd that spilled out into the courtyard, all united by a common thread.
They were there to celebrate the memory and work of a man who left a mark on the Sacramento landscape, and on the lives of people who knew him — Carter Sparks.
Sparks, who died in 1996 at age 73, was an architect who designed mid-century modern style homes throughout the Central Valley from the 1950s through the 1990s. He designed dozens of custom homes in the Sacramento area for a list of clients that included City College's own art professor Gregory Kondos and Tower Records founder Russ Solomon.
The design Sparks drew up for Solomon's house was never built. The house Sparks designed for Kondos is still standing in River Park.
Kondos and Solomon both attended the exhibit's opening, though Solomon made his appearance early to beat the crowd, according to Justin Wood, the curator behind the exhibit and the creator of the Carter Sparks Archive, an online collection of homes designed by the architect.
The show was put together with help from Carter's daughter, Jennifer Sparks and Sacramento Modern, a non-profit that works to preserve modern art and architecture. The exhibit is called "Carter Sparks: Architect, Modernist, Friend." That last word may come across as a bit sentimental, but according to Wood, it's true to the way Sparks worked.
"Sparks believed that in order to design a piece of architecture for someone, you had to know them," Wood says.
One of the exhibit's goals was to bring Sparks' friends together, and it succeeded in that.
Kenneth Carter worked right alongside Sparks.
"Our drafting tables were just a few feet apart," Carter says. "We shared the same receptionist."
Despite their close proximity, for years, Carter had no idea how talented Sparks was — all he saw were stacks of papers. That all changed when Carter saw one of Sparks' designs, drawn out on vellum paper, and decided to visit the address. He never told Sparks about the visit, but he was surprised by the talent on display.
"Carter (Sparks) was so unassuming an individual," says Carter, who no longer works in architecture but in video game design after helping his company shift to digital design. "He was a true friend … a charismatic individual."
Times change, but people hold on to Sparks' memory.
Agnes Norskog, 97, who attended the exhibit, has lived in her unique, Sparks-designed home long before it was finished. She says it was 1963 when she and her husband started construction themselves. Her son, Tony, was about 12 years old, and remembers working on the house, tying rebar.
The Norskog family wanted a home that stood out, and they heard about an architect who was holding workshops — Sparks. They sought him out, and worked with him to meet their needs.
"I've kind of designed the inside," says Norskog, who furnished much of the interior, trying to match Sparks' designs. "I'm not really an artist, I'm a copycat."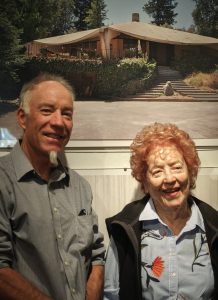 Their six-sided Carmichael house is made up almost entirely of concrete and steel. It has a sweeping, arched concrete roof that looks like a fabric awning at first glance. According to Tony, it is concrete; mixed with vermiculite and light enough to float on water.
It was not a quick project by any means. By 1980, the house still lacked a functioning kitchen. For a while, the bathroom was set apart with black plastic tarps, and it had concrete floors up until the late 80s, when they had carpets installed. Norskog still lives there, and has no plans to move out.
"I love it," she says.
Standing guard next to a miniature model house at the exhibit, Franklin Yee happily removes the roof, though his wife, Sandra, tells him to be careful not to break it. He nods, but he's clearly excited to share the story of their home.
"He took a year planning the design," Yee says. In their search for an architect, the Yee family asked around. They developed a pool of four architects, and Sparks stood out as the clear option. When he brought the designs, they loved it.
"Everything would be equidistant from the chimney," Yee says. "He didn't believe in rain gutters."
The house, which is 49 years old, is a symmetrical, eight-sided shape made largely of wood and stone. Each room and balcony has a corresponding counterpart on the opposite side of the house, and the layout was done nontraditionally, so rooms were placed in expected places.
Once, Yee asked Sparks if an interior element needed to be so steep. Sparks explained that the angle was perpendicular to the angle of the roof, and therefore couldn't be changed.
"Everything had to be a right angle," Yee says. "No deviation."
The enormous front doors of the Yees' Arden Oaks home are a common design element in Sparks' work, and it's echoed in Wood's design of the exhibit. There's a towering construction of slats that Wood fabricated for the exhibit. It reaches up toward the ceiling, drawing eyes throughout the room.
The reception did the same thing, drawing people together. That was one of the exhibit's goals, and Wood was happy with the turnout. It was the first show of Sparks' work, and the process of researching and consolidating the architect's work into an archive has been a journey for Wood.
"It starts being like a collectible, like Pokémon," he says. "I think I've found most of them."
Wood is an artist who discovered a passion for Sparks' homes when he bought one with his wife, an architect herself. Since then, his exploration has led to his discovery of the immense web of lives touched by Sparks.
He says, "Eventually, everything connects."
The Kondos Gallery is on campus in Fischbacher Fine Arts 123. The exhibit is open until Oct. 25, Monday and Wednesday 10:30–4 p.m., Tuesday and Thursday 10–4 p.m., Friday 9–4 p.m., Tuesday evenings until 7 p.m. or by appointment at stevens@scc.losrios.edu.
To learn more about the Carter Sparks Archive, visit www.cartersparks.org.