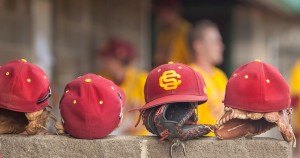 City College was unable to hold off the Sierra College Wolverines March 26 and lost Game 2 of a three-game series, 2-1.
The Wolverines scored on a Bret Sundberg RBI single in the first inning to take an early 1-0 lead. The Panthers answered back in the second inning after Anthony Fellman reached home on a Brian Ingram RBI ground out.
The Panthers allowed the go-ahead run in the fifth inning. Starting pitcher Zach Smart pitched effectively in five innings, but was pulled in the sixth for Travis Magness.
"Smart loaded the bases with one out and did not have the command," said Panthers' head coach Derek Sullivan. "He was good through five, and in that sixth inning he just kind of lost it a little bit."
Magness allowed no runs on two hits in his time on the mound..
"We had given him some rest because we kind of tired him out, and he has pitched in a lot of games for us," said Sullivan. "He did outstanding."
The Panthers had opportunities in the game and got in scoring position, but couldn't respond. In the eighth, Boston Romero fell short of a home run in right field but managed…» Read More