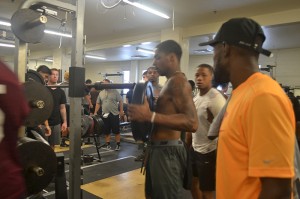 Fall is the harvest season. The time of year when Sacramento City College harvests its own new crop of students.
The first college experience may be a lot to take in for some incoming students. With everything students have to cram in throughout the semester, extracurricular activities can carry on unnoticed. Students, new or returning, may be unaware of the athletics programs here. Athletic programs are the various types of sports, men's and women's, that a college has available to its' students on campus.
City College has a total of 18 athletic programs on campus, most of which take place during the fall semester.
"We have eight programs, with men's and women's cross country, beginning in the fall," said Sports Department Dean and Athletic Director Mitch Campbell. "Men's and Women's basketball also starts in the fall and [are] the only [sports] to carry over in two semesters so it's really 10."
One such program is wrestling. The 2013 Panther's wrestling team won the state championship and is looking to have similar success this season, according to Head Coach David Pacheco.
However, there is no added pressure to repeat as state champions, Pacheco added.
"I don't know that there's any pressure…» Read More