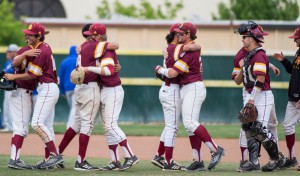 City College baseball closed out the season with a three-game series sweep against the Modesto Junior College Pirates. The Panthers took Game 3 April 24 at Union Stadium, 7-4.
Despite the victory, the game was bittersweet for the Panthers. For many of the players this game would be their last, and the emotion on their faces showed it.
Third baseman Tyler Houlihan ended his final season with the Panthers on a humble note — earning four hits, two runs and a number of steals.
"It sucks it came to an end on a sour note," said Houlihan. "But overall it was satisfying to go out with a bang. I feel really grateful for the past three years. This place changed my life."
Fueled by emotion and the slightest possibility of still making the playoffs given unlikely circumstances, the Panthers played one of their better games all season. The team scored seven hits on 11 runs with four errors.
The score remained evenly matched throughout the game until the bottom of the sixth when catcher Austin Spainhour hit a two-run double to left field, bringing home both right fielder Kyle Blakeman and pitcher Brandon Langan.
Modesto tied up the game 4-4…» Read More