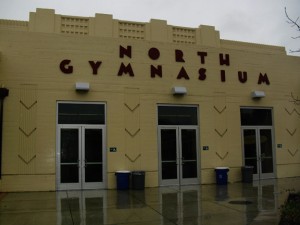 With City College's men's basketball season underway, the team looks to improve on its performance from the 2013-2014 campaign.
The Panthers' season started in early November with non-conference play as well as some tournaments. Big-8 Conference game are scheduled to start in early January, and the season will wrap up with the playoffs in late February.
Last year, the City College men's basketball team ended the season by almost making the California Community College Athletic Association playoffs with a 14-14 — 7-7 in conference play — record. Now, even with some of its top players from last season gone, the Panthers team aims to be as competitive as it was last year, according to head coach Andrew Jones.
"A realistic goal for us is, last year we were 14-14, if we can match that again, I think that would be a successful season, given that we lost six of our top seven players from last year," said Jones.
Panthers have only four players returning form last year's roster — forwards Adam Ciszewski and Oleg Yemchuk and guards Derek Rhodes and Michael Wiggins. Of the other nine players on the 13-man roster, eight of them are freshmen.
Ciszewski says he believes…» Read More