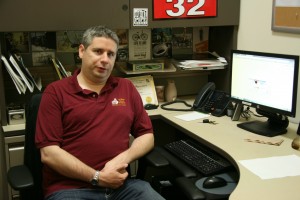 Encouraging young inexperienced students to dip their frantic feet in the water, Jared Anderson has been a debater since his early years in our own backyard as a City College student himself.
"It will change your life," chuckles Anderson, a City College communication studies professor and until recently, the Los Rios debate coach. He is now the debate coach at Sacramento State University.
For many years Anderson, 38, has helped students who struggle in all walks of life—students who come from poverty to students who come from stable homes—to succeed in public speaking.
He believes being on the debate team helps students succeed and get over their fear of public speaking, in addition to other benefits.
"You get to hang around a bunch of nerds who all love the same thing," he says.
He wishes to bring out the potential his students never thought to possess.
"I've had a lot of talented, brilliant students who've gone through the program," he says.
Aside from working with students of various educational and experience levels, Anderson made strides to ensure the debate team was a healthy and welcoming atmosphere for all his students.
"Working under Jared was a great experience because he always…» Read More