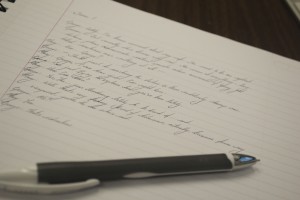 An audience gathered Sept. 14 at City College's Performing Arts Center to watch several new plays written just one day before the show.
City Theater launched its 15th annual 29ó Hour Playwriting Festival Sept. 13 when it presented a challenge to eight aspiring playwrights. Each playwright was tasked with writing a 10-minute play that incorporated the following prompt: "A cup in my car. A = bandlight on the rosebush. Not from Hamlet."
The theme, according to City College Theater Professor Luther Hanson, who also coordinated the festival, was tailored in the style of a Zen riddle to force the playwrights to write something unusual.
"I think it's fun to give the writers a theme and watch their heads explode," said Hanson.
"Last year's [theme] was 'Brrr, that's a cold fusion.'" City Theater actor Juan Ramos participated this year as a playwright. This was his third time doing the festival and Ramos, said this year's prompt was more difficult than his previous experiences.
"I do it for the challenge because you have no idea what the theme is going to be," said Ramos.
The guidelines for each play were as follows: each…» Read More