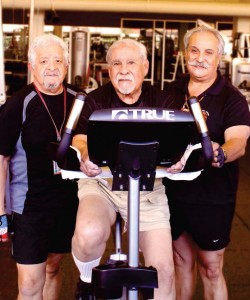 Drops of sweat collect on the rubber-padded floors of the City College gym as Victor Lagunas Sr. approaches the 10-mile mark in his workout riding one of the schools stationary bicycles. Lagunas biked 13 miles on this day, one more than his usual 12.
At the 13-mile mark Lagunas stops. Momentum from the turning wheels carries his legs through a few more pedals until he comes to a rest. He takes the white gym towel draped around his neck and wipes the sweat from his thinning gray hair and forehead. His two sons, Victor Jr. and Gilbert—also wrapping up their workouts, come over to meet their 90-year-old father, as they have after every workout for more than a decade.
The Lagunas family's tenure at City College spans over 50 years. Lagunas' oldest son Victor Jr. attended classes in the mid-1960s, graduating with an associate's degree. Lagunas' three other children followed suit, each spending time at City College before transferring to four-year institutions.