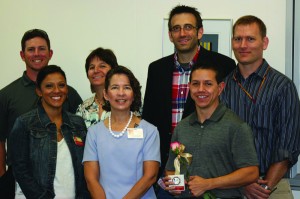 City College welcomed new and long-term temporary faculty at a Sept. 20 campus reception, as well as honoring the recently tenured.
"This is a great time for us, to acknowledge those individuals to have made it through the tenure process and now become full professors at our institution and also welcome those who are just starting that journey and welcome them to our family," said Mary Turner, vice president of instructional services.
The mood was celebratory as 11 new faculty members were introduced and five instructors were recognized for receiving tenure. Plaques, flowers, hugs and congratulations were distributed among the small crowd of faculty and administrators in the Rodda Hall North conference room.
Professors recently granted tenure were Tony Davis (counseling), Lynn Fujikawa (nursing), Nadine Kirkpatrick (nutrition), Melodi Randolph (dental assisting), and Gayle Williams (accounting).