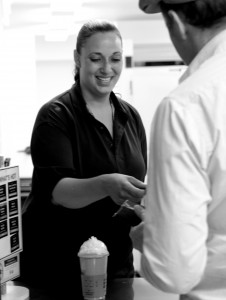 At the sliding glass doors of Rodda South, she heard it for the umpteenth time.
"What's up, Subway girl?"
The young man got too close, insisting he knew her, and backed off when Cassandra Wilson pulled out a knife. People often recognized her from the Subway in Greenhaven, where she used to work, but this time she felt harassed.
"I didn't know I was in the wrong. I didn't even know we had campus police," says Wilson.
Wilson, now 27, recalls talking on the phone when campus police approached her and took her purse. In it, they found her knife. She was then arrested and taken to jail, where she remained for 36 hours. Wilson joked with police officers before bursting into tears.
"My mom's gonna kill me," Wilson cried with disappointment. She took anger management classes on campus shortly after the incident.
"I never went back [to jail]," says Wilson, who is now working on a certificate in the cosmetology program and A.S. transfer to California State University, Sacramento.
She is also studying American Sign Language, which she loves because it gives her the chance to help others, she says. Helping others is what she does daily on campus,…» Read More