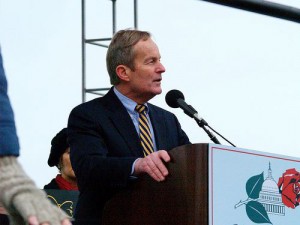 During an interview for The Jaco Report on Fox 2 (KTVI) on Aug. 19 in St. Louis Mo., Republican Congressman Todd Akin uttered one of the most ignorant and insensitive statements by a politician and set off a national media frenzy.
"First of all, from what I understand from doctors [rape related pregnancy] is really rare," Akin said. "If it's a legitimate rape, the female body has ways to try to shut that whole thing down."
What is most disheartening about Akin's beliefs on rape is that his use of the word "legitimate" to characterize rape reveals that he, like many others, is quick to attack the victim and question the validity of their claim.
According to a study performed by the American Journal of Obstetrics & Gynecology in 1996, an estimated 5 percent of rape victims, or 32,101 women, will end up pregnant as a result of being raped in the United States of America.
It is hard to decide which is more disgusting: that an estimated 32,201 women are victims of rape-related pregnancies each year, or that this number represents only 5 percent of the total number of women victimized by rape in the US annually.
Not only…» Read More