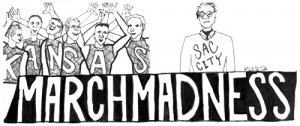 Painted faces, entirely paintedbodies, huge head cutouts, and raucous crowds—these all describe a National Colle­giate Athletic Association basketball game.
Not many sporting events can draw a crowd like an NCAA game. It's basically like the Seattle Seahawks fans at Centu­ryLink Stadium, who are known as the 12th man, and the fans at Arco Arena (now known as Sleep Train Arena) when the Kings were in their heyday, mixed with large amounts of alcohol.
With all the young fans in Califor­nia rooting for teams hundreds or even thousands of miles away, it may be hard to believe that City College's sports teams (or most community college sports pro­grams) don't have a very large following.
Although community college teams aren't on a national level, there are still plen­ty of students, as well as former students, who one would think might want to come out and show support for their school.
Most sports fans believe that there's nothing quite like NCAA basketball. The passion and camaraderie among this group is unrivaled. Many college players never go on to play in the pros, so they're putting in nothing but effort because they're playing for the love of the game, rather than…» Read More