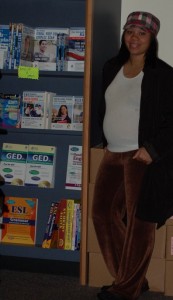 Uncomfortable? Yes. Attitude issues? Absolutely. Urinating non-stop? Oh my gosh!  Hungry all day? Yes, I have to eat or I will throw up, and it's not pretty.
Is it easy being pregnant and going to college? No. My life as a pregnant student is taking a toll on me. It's getting harder and harder, as my pregnancy progresses.
I feel tired all the time. In fact, I'm usually exhausted and don't want to do anything at all. Most of the time I don't even want to go to school or do my homework.
I have to, though, because I don't want to be a failure. I just want the best for my unborn son, Mykel. Having kids makes you want to change and become a better person. I fight through the pregnancy pains and still come to school, and do what I have to do. I want to be a good role model for my son. I want him to know one day that he can be whatever he wants, he just has to do things he's never done before.
Still, being pregnant is not fun at all. Everyone says it's a beautiful thing, but not to me. The only…» Read More