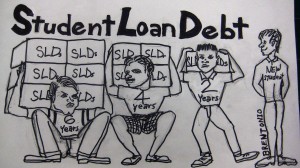 Student loan debt probably isn't as common among community college students as with University of California or California State University students, and those who do carry debt most likely owe a lot less money  than upper division students.
However, a great many students at City College will eventually move on to pursue bachelor's or higher degrees and will take on heaps of debt—that is, unless they are fortunate enough to score a sweet, sweet scholarship or  two or three.
Ask any student or parent who is paying for someone's college education: Something needs to be done to make obtaining an education less expensive.
In fact, for most people, facing the inevitable amounts of money they'll need to pay back for their oh-so-coveted higher educations is something that weighs on one's conscience throughout their college careers.
But no matter how much we would like the threat of student debt to make like brick-and-mortar Blockbuster stores and disappear, it's more like Cher in that it just won't go away.
The solution seems simple: Make college less expensive by cutting all the extras. Just charge for classes and books unless students opt to pay for other things like dorm space.
The…» Read More