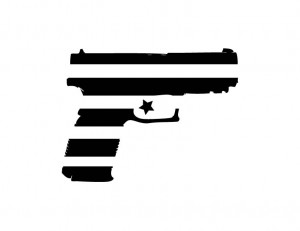 Whether it's as far away as Sandy Hook Elementary School, a little closer like a movie theater in Colorado or right here at home—from gun scares at Arden Mall to officers being shot in our own backyard—a gun getting into the wrong hands and being used to cause chaos is something that's simply happening too much lately.
With the entire nation wondering what the Obama Administration will ultimately do to fight the misuse of guns, one thing is clear: There is almost a down-the-middle split when it comes to opinions on guns.
On one hand, there's the pro-gun crowd, those who feel the government is infringing on their rights by regulating gun ownership. These folks feel that guns should be used for protection, hunting, and that if everyone has a gun, things like the Aurora, Colo., theater shooting would result in a fewer deaths because a gunman like James Holmes could be stopped with another gun.
But for those of us on the other side of the spectrum, controlling guns is simply a way to help protect the innocent, especially the children of our nation. It isn't about infringing on the rights…» Read More