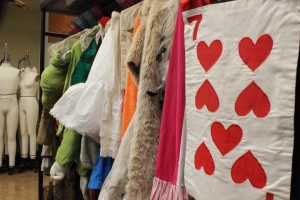 The classic tale of a 7-year-old girl who falls into a land of wonder is a story most children come to know and now City College students will get to revisit.
City College's new Performing Arts Center will opens its doors to present its first theatrical production of the season Nov. 16 until Dec. 18 from 8 p.m. to 11 p.m. "Alice in Wonderland," still in the early stages of production, must undergo tasks such as rehearsing for a new theater style and being fit for costumes.
"This is our very first show in our brand new remodeled theater," says "Alice in Wonderland" costume director Nicole Sivell. "We've got this beautiful gigantic stage to fill and I think we're going to endeavor to make things as big and over the top as we can."
Lewis Carroll's classic tale "Alice in Wonderland" will be the first performance to light up the PAC stage since its reconstruction. Theater arts professor and "Alice in Wonderland" director Luther Hanson brings Carroll's beloved narrative to life in a manner "that [students] have never seen before," he says.
"There will definitely be some familiar elements that people are expecting to see, but I think folks will…» Read More