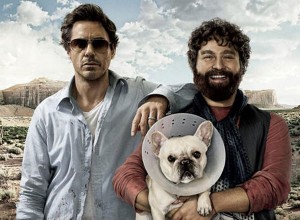 If movies have taught us anything, it's that a man will go to great lengths to get to his family; whether that means fighting handicapable hillbillies, scoring drugs on Craigslist, or even dodging Border Patrol. Director Todd Phillips' new film, "Due Date," is no different.
"Due Date" stars Robert Downey Jr. as straight-laced architect, Peter Highman, who embarks on an outrageous cross-country journey to witness the birth of his first born son in Los Angeles with a foe turned friend, aspiring actor Ethan Tremblay, played by Zach Galifianakis. When an unpleasant encounter and misunderstanding gets both men kicked off a plane and on the No-Fly List, Peter reluctantly pairs up with Ethan, who is accompanied by his dog and the ashes of his dead father. Along the way, Ethan makes it harder for Peter to get to the hospital on time by showering at rest stops, buying marijuana from a mother of two, and getting into near-fatal car accidents.
The film shares a similar plot trait with the John Candy/Steve Martin classic film "Planes, Trains and Automobiles," but does not come close to its comedic genius.
Throughout "Due Date," Peter and Ethan tether too much between best friends and…» Read More