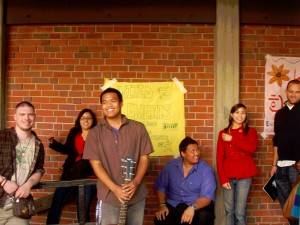 The United Elements Club will be throwing their first event called "Rock the Mic, Expression Night", with performances ranging from singing to dancing to spoken word.
The event will showcase performances by fellow club members and students who have a passion for the arts. After the showcase, an open mic event will commence. Students can sign up, express themselves, show off their talents and network with fellow artists.
"There's definitely a lot of excitement in throwing our first event," says United Elements Club President RJ Lisondra. "I remember when we first started talking about how Sacramento City College needed a club that was an outlet for those who are passionate about arts. It feels really good to have that become a reality."
"Rock the Mic, Expression Night" is a free event and will be held on Friday, Nov.19 in the Student Center from 5 p.m. to 7 p.m. The club asks that the students who plan on participating in open mic be considerate and professional about their performances, as there will be children and faculty attending the event.
To register for the open mic event, contact the United Elements Club at United8elements@gmail.com or find the club on Facebook: United-Elements SCC.