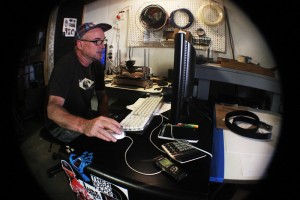 To many in Sacramento, having the train or light rail ramble by every 15 minutes may be disturbing and distracting. But to a man who says he lives by flowing with the current of life and enjoys simple, yet artistically creative outlets, hearing the rumble of the rails is more serene and inspiring than a nuisance.
Chris Currier lives by the motto, "Art imitates life; life imitates art." In this case the artist imitates life and creates art by living behind the lens of a camera, and his love for art and the craft of filmmaking can be seen throughout all his projects.
Currier, who is in his third year studying graphic arts at Sacramento City College, has been involved in the film industry since the '70s, a time that marked the beginning of a progressive style heading towards the digital era.
Since then, Currier has watched the film industry transform from the methodical process of hand-made films to a modernized version that uses computerized programs in place of human hands. Some of his works were screened in April at the Sacramento City 48 Hour Film Festival.
"I was able to see and evolve with this entire industry, cause I…» Read More