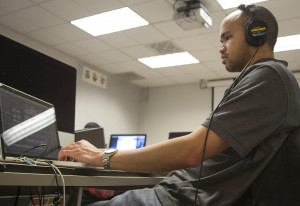 Although it has been several years since Nick Hunte graduated from City College as a multimedia student and Express editor, he says City College is what led to his success in photojournalism, landing three jobs and working on his up-and-coming film project.
Dressed in a black jacket with a light blue Sacramento Kings shirt underneath, the photojournalist, student tutor and part-time City College student's casual, laidback and friendly personality stands out as he discusses his passion for journalism,photography and sports.
Hunte originated from Queens, New York. He and his family moved to Sacramento after Kindergarten.
"I pretty much grew up here," Hunte says.
Determined to continue chasing after his dreams in multimedia, Hunte keeps his days busy, working for the Roseville Press Tribune newspaper and Lifetouch photography. He also does film for the River Cats, and is in the process of creating his first Kickstarter video project with his friend and Sacramento Kings hip-hop dancer Isela, who asked the Express not to use her last name.
Hunte, who attended City College from 2004 to 2008 and is still involved on campus as a student tutor for a multimedia course, says he enjoyed writing for the Express because it…» Read More