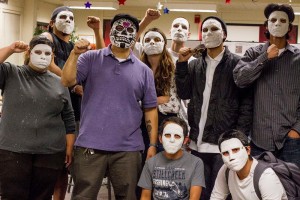 CITY COLLEGE STUDENTS MARKED the midpoint of fall semester with an interactive workshop at the Cultural Awareness Center.
As leaves changed colors and fell,local artist, activist and teacher Xico Gonzales led a classroom of more than 40 students in making papier mâché masks to celebrate Dia de Los Muertos.
"Other than the students coming here just to do art, we teach them the skills to create a community and come together," says Gonzales. "Somebody will make a mask for someone who comes in today, and then hopefully that person will turn around and teach someone else … so it's all about creating a community."
Student Rose Castaneda, liberalstudies major, also believes the annual event is a communal upbringing while teaching the community about Mexican and Latino culture.