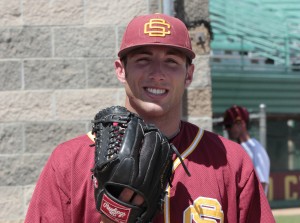 The California Community College Athletic Association announced Jan 28 that it has selected City College pitcher Dan Sayles to receive its annual Scholar Athlete of the Year award for 2013.
The CCCAA Scholar Athlete of the Year award is the highest honor a community college athlete can receive, according to the organization.
The CCCAA only considers athletes who maintain a GPA above 3.5, demonstrate outstanding citizenship characteristics by participating in college and community activities, participate in at least two seasons of a sport at a California community college, and are strongly recommended by three people from the college, according to the CCCAA handbook.