---
Nick Pecoraro
Sports Editor
npecoraro.express@gmail.com
His office is decorated with all sorts of tokens of coaching excellence. You can't help but feel humbled setting foot inside the door.
Championship trophies overcrowd his shelves. Plaques acknowledging career milestones — 700 wins, 800 wins, 900 wins — line his walls. The coach himself sports a pair of championship rings he earned guiding the 1988 City College women's softball and 2009 women's golf teams to state titles. The rings are just two of the five that make up his collection.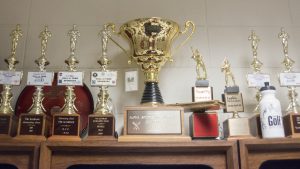 But perhaps the most impressive memento isn't found in coach Tim Kiernan's office or in his home's trophy room. It's on his Facebook page. It's a five-paragraph post from a former player expressing equal parts gratitude for what was, respect for what is and "heart-pounding excitement" for what will be.
"I will forever be grateful for you and all you taught me about the game while simultaneously about life, as well. I have never wanted to play my guts out for anyone as much as you and felt such heartache when I let you down," states a small excerpt from the post written by Cheri Boals, one of the hundreds of Kiernan's ex-players who have advanced to bigger and better things because of his tutelage and leadership.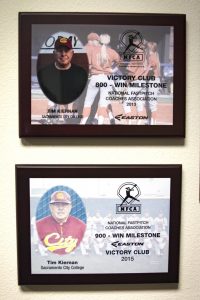 Despite monumental achievements as a City College coach for over 35 years, the softball coach consistently looks beyond his own accolades to help lay the foundation for success and personal growth in each of his players.
Unapologetically old school, Kiernan has a cool, calm demeanor, but on the softball field, even at age 70, he moves with a purpose. His players talk of the attention to detail he enforces before they can even set foot onto the diamond.
"Have your jersey tucked in neatly and your cleats polished. Make sure at least 1 ½ inches of your stirrups are showing. If you're on time, you're late." These standards echo the six years Kiernan spent with the Army Reserves in the late 1960s. That touch of etiquette Kiernan enforces goes for inside the classroom as well as during road trips.
"When we travel and go out to eat together, we dress up," says Kiernan. "That doesn't mean we need to be dressed up for a ball, or something like that, but just look nice. Be presentable. You're reflecting the school and the program. These are things that a lot of these players haven't done in high school or their travel teams."
Kiernan, who began coaching at City College in 1981 and continues to teach physical education full time, keeps in touch with a majority of his ex-players and still gets regular visits during the season from their families.
"Tim is a huge reason why I even went to college," says Shannon Gilley, an All-American center fielder under Kiernan from 1993-94 before she earned a scholarship to Texas A&M and eventually returned to City College as a counselor.
Gilley says her life would be drastically different if not for Kiernan, who plucked her from his own alma mater, Hiram Johnson High School, in Sacramento.
"He didn't put you down or degrade you or make you feel bad about yourself, but he made you accountable," says Gilley, admittedly choked up with emotion when remembering her playing days under Kiernan. "He believed in me when I didn't. It was nice to have some stability and somebody who actually cared."
Boals, formerly Cheri Shinn while at City College and author of the aforementioned Facebook post, pitched from 1996-97 before a brief professional career. Kiernan tested her patience and challenged her daily, Boals says. Nowadays, she uses the phrase "butted heads" endearingly.
"He knew what he was doing with every athlete he ever had, including me," she says. "He could coach an entire team as a unit, but still could coach individuals the way they needed to be coached. He could push me and piss me off where, for others, he had to coddle and pat them on the back. It's a gift."
Kiernan's teams have beaten Olympians. He's the only active coach in the California Community College Fastpitch Coaches Association Hall of Fame, inducted in 2007. Included with five state titles are over 20 conference championships and one national crown. Through the end of the 2017 softball season, he stands just 14 wins shy of 1,000 career softball wins at City College.
But the numbers most meaningful to Kiernan are the 300-plus student-athletes he's helped earn scholarships to larger programs and the countless dreams realized. According to Kiernan, over 100 of his former players have become coaches or teachers themselves, disciples of his direction and guidance.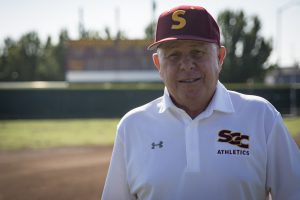 "My goal is to get every player that comes here that can finish their two years — and sometimes one year if they're really good students — and get them a scholarship," says Kiernan. "That's the No. 1 thing: education. Softball is a tool for that. You set the road map and then they follow that. If they get off course a little bit, you try to get them back on course."
When Kiernan recruits, he says he seeks players he thinks will give him the most balance on his lineup card. A little speed, a little power, a little defense and a little pitching add up to a winning season.
And when those players have completed their City College days, Kiernan hopes to have instilled that same balance in each of them as they move on in life. A little work ethic, a little discipline, a little humility and a lot of heart add up to a winning character.