Nita Gardipee
Staff Reporter
ngardipee.express@gmail.com
City College students of all majors can study fossils and California's diverse natural history through the lens of paleontologist Professor Kathryn Stanton.
Historical Geology (GEOL 310) covers 4.5 billion years of Earth's history in relation to current environmental issues, Stanton said. The class is offered only during the spring semester and is open to all students without prerequisites.
"I think it's important for everyone to know something about the planet they live on," said Stanton. "If you do know something about climate change in the past, then you can evaluate whether what's going on right now is something we need to worry about or not."
Students who opt to take the lab portion of the class (GEOL 311) get to work hands-on with fossil, rock, and mineral specimens. City College is fortunate enough to boast its own impressive collection, something Stanton said is a valuable asset to the geology department.
"We have fantastic fossil collections for a community college, and I think that's a huge benefit to the lab because they're not looking at one little specimen, they're looking at lots of different specimens," said Stanton. "We just got really lucky. I think it's an enormous resource for us."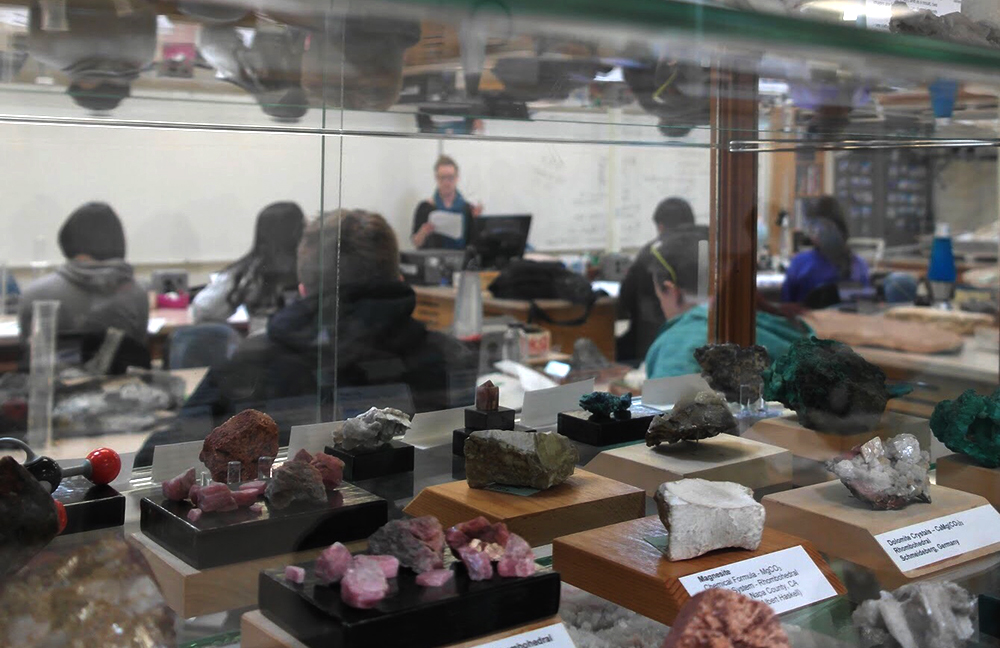 Stanton said she hopes to someday display the collection to the public. She says her long-term goal is to have a museum.
Once a student at City College herself, Stanton also has a master's and a doctorate degree in geology from UC Davis. She is enthusiastic about teaching and encourages students of all educational backgrounds to enroll in her class.
Stanton said she loves having students who are not in the sciences take the class. She says it's a challenging, yet accessible course that has relevance for people's lives.
"If you're an educated citizen, then you want to know something about the world you live on because it helps you make informed decisions," she said. Stanton believes studying these concepts can help to broaden awareness about the state of the environment.
She also believes the course is beneficial to anyone in STEM fields like biology or environmental science. Some of the topics covered include patterns of mass extinction over a multimillion year time period as well as evolution and oceanography. Stanton believes the class is less intimidating than a typical biology or chemistry course.
This semester, students will have the opportunity to visit the Museum of Paleontology at UC Berkeley, which is closed to the general public. Stanton said that students will get a behind-the-scenes look at the museum's private fossil collection and participate in science forum discussions with faculty, researchers and graduate students.
In a recent lab activity for Historical Geology students reconstructed "Geo-World," a model of continents, ocean basins and tectonic plates resembling Earth's geological makeup.
Student Sonia Miller has a bachelor's degree in environmental science. She became interested in the field while working in Oroville for the Department of Water Resources.
"Science is a lot of fun. You're constantly learning," said Miller. "As for everyone I've ever worked with in geology, they're the happiest people I've ever met."
Jared Damiani is a third-year geology major. He said his passion for the outdoor lifestyle is what got him interested in the field.
"I like to be outdoors — I hike and camp a lot," said Damiani. "It'd be kind of cool to get paid to be in the field."
Stanton also takes advantage of the Sacramento region to teach students about the diverse range of ecosystems that exist within the state. She thinks California is a perfect learning ground for the geological sciences.
"California has every different ecosystem," said Stanton. "We have the lowest point in Death Valley, and about 80 miles away as the crow flies we have the highest point (Mt. Whitney), and we've got everything in between. We've got desert, we've got coast, we've got forests, we've got the great valley, which is itself, geologically freakish. I think it's a great place to do geology."
Stanton's greater goal is to increase the population of geology students. She said most students don't realize there are plenty of well-paying jobs in the field.
She hopes that students who take the class will leave with a broader aspect of the world and the future of the planet.
"I just think that big-picture perspective you can get about the planet we live on from this type of class, and other STEM classes, is really beneficial to anybody whether you're in the STEM field or not," said Stanton.
To learn more about the Historical Geology curriculum, contact Kathryn Stanton at StantoK@scc.losrios.edu.