Need money?  Yes, please!
The Sierra Health Foundation is funding an essay contest inviting all currently enrolled City College students to write on the topic of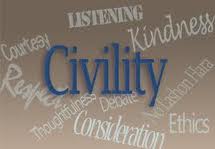 civility for a chance to win cash prizes in the form of $1,000 for first place, $700 for second place and $300 for third place.
According to the contest organizer, City College English professor Maureen Dana, the topic of civility was chosen because it is both ongoing and timely.
"Civility is about respect, social responsibility and common human decency," said Dana. "You don't have to have a copy of 'Miss Manner's Rules of Etiquette' to practice civility in your daily life."
The contest guidelines are as follows:
Essay must be on the theme of civility.
All entrants must be enrolled at City College fall 2011 or spring 2012 semesters.
One entry per student.
Must be the sole work of the entrant.
Essay must be between 800 and 1,500 words.
Essay must be typed and double-spaced.
Essay must have a stapled cover sheet with the entrant's name, mailing address, email address, phone number, essay title, and word count.
The deadline for submission is Friday, March 23. Submissions can be turned in to Rodda Hall South, Room 226. Winners will be announced at the end of the spring 2012 semester.
A complete list of rules and guidelines can be found in the English department located in RHS.  Students can direct all questions, comments or concerns to Maureen Dana at danam@scc.losrios.edu or 916-650-2962.