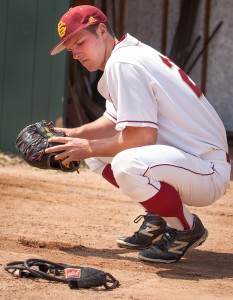 In the middle of every baseball diamond lies a small, brown and dusty covered hill surrounded by white chalk and blades of green grass. It's a place that batters fear. This place is the pitcher's mound, and it's what Ben Ritchey calls home.
Ritchey, 20, City College baseball's ace pitcher, has had a fascination with baseball since the age of 5. He contributes his desire to play to his father, and mentor, who influenced him and always had a strong passion for the game.
"I love the sport because I feel as if baseball is the ultimate balance in a game," says Ritchey. "It can kick anyone down who thinks they are too good and uplift anyone who is the opposite."
Ritchey pitched throughout high school at Capital Christian and held a 27-11 record in all four years of his varsity tenure. He says that his decision to join City College was to perfect his skills on the mound before transferring to a four-year university.
The control and command of his pitches leaves his coaches believing that City College is only the beginning for Ritchey. His repertoire of pitches varies from a fastball, sinker, changeup and slider, with the latter…» Read More