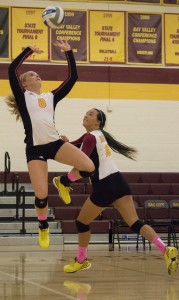 Kylee Hardy, captain of the City College women's volleyball team, says she's been exposed to volleyball since she was in the womb.
"I've been playing since I could breathe," says Hardy.
Her mother was not only a volleyball player but also coached Hardy for her entire life, on and off the court. The day after Hardy was born, in fact, her mother took the newborn to a game she was coaching. Both of Hardy's older sisters played volleyball at Division 1 colleges.
Hardy played at El Dorado High School as part of an all-league varsity team. She came to City College in 2012 and in 2013 received an All-Big 8 honorable mention. The All-Big 8 honorable mention award is recognition to the players in Big-8 conference that had a good season.
"It's kind of a big deal," says Hardy of the honor.
Now, as a team captain, Hardy says she's taken a few freshmen under her wing and shared with them her knowledge of the game.
Volleyball Coach Laurie Nash says Hardy is an integral part of the team.
"She genuinely cares about her teammates and wants nothing but the best for them," says Nash.
Hardy grew up in…» Read More