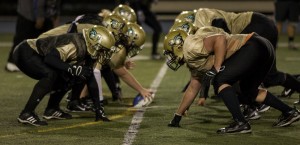 Spring football arrives at City College this month, but the Panthers won't be playing. Or the Republic FC. Hughes Stadium will play host to the city's Independent Women's Football League semi-professional women's football team, Sacramento Sirens.
The Sirens will play four games at Hughes Stadium, with the home opener April 18 against the California Quake.
In their 14 seasons, the Sirens have played at various high school fields throughout Sacramento, including Rio Linda and Natomas. This will be the first year the Sirens use Hughes Stadium as their home field, and the switch provides many opportunities, including being able to sell alcohol, according to Sirens' owner Michelle Wiederhold.
"I wanted a venue that would showcase the team," says Wiederhold. "You'd be surprised how many people don't know that there's an all-women's tackle football team in Sacramento and that we've been here for 15 years.
"Hughes Stadium is open and obvious. It's an amazing stadium. It has a sense of being something greater than high school. We want to draw in a crowd that likes to party."
Despite not being well known throughout Sacramento, the Sirens are one of the city's winningest teams. They hold a 104-28-1 overall record, have won…» Read More