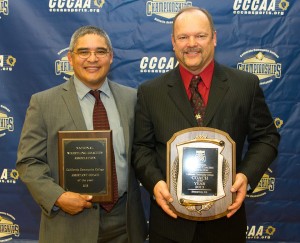 Walking through the dimly lit hallways of City College's North Gym, his steps are slow and deliberate. His footwork seems constantly in tune with his body's balance.
A couple of minutes before his next meeting, he peeks through a door window to observe the Boot Camp Fitness class in progress. It is in this very same room where wrestlers train to become state champions. And they do so under his guidance, the guidance of City College wrestling head coach Dave Pacheco, who was named Head Coach of the year for California community colleges in December 2013.
The students inside, grouped into three military ranks, conduct sprint and cardio drills, zipping up and down the room in a variety of running styles. Pacheco watches and nods his head after each student completes his or her rotation, ending on the other side of the viewing window. Some students see him through the window and smile. Others choose to avoid his gaze—upon meeting Pacheco, one can understand why.
Steely, penetrating eyes and receding cropped hair that fits perfectly under his baseball cap, Pacheco looks very much like a police drill instructor. Even a thin handlebar mustache frames his square jaw. His loose gray and…» Read More