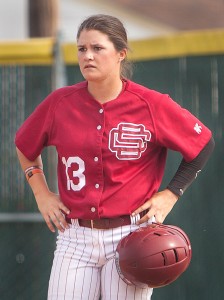 Injuries are common for athletes — some are mild and some are intense — and can sideline an athlete for a season, which was the case for City College softball player Erikka Burke.
Burke has played softball for the Panthers since the 2014 season. Early in her freshman year, Burke suffered from a torn rotator cuff and was forced to use a medical red shirt to maintain her two years of playing eligibility.
"I love being on the field and playing," said Burke. "So when I got my injury, I was so devastated. But I knew, no matter what, I was going to come back and play."
According to Burke, her passion for softball started with playing T-ball when she was 4 years old, she later continued into recreational softball, then transitioned to travel ball when she turned 11 because "the other games became less challenging."
Before coming to City College, Burke pitched for Elk Grove High School where she earned a 7-1 record with a 2.07 ERA in her 2013 senior year. It was in November of the same year at a City College practice when Burke sustained the injury in her pitching shoulder.
"I pitched the ball and…» Read More