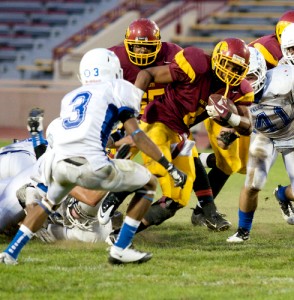 After a three-game losing streak City College captured its second win of the season Oct. 15 with a commanding performance, 36-19, against Solano College at Hughes Stadium.
City College started the game with a touchdown on its opening drive. After several plays, quarterback Dominic Carmazzi connected with receiver Cedric Anderson for a 10-yard touchdown pass.
Along with a 6-point touchdown, Anderson also was able to convert with a 2-point conversion that put the team ahead, 8-0, with 9:16 left in the first quarter.
"We all worked together as a team, as units, all units – special teams, offense, defense [and] coaching," running back Devian McKinnie said. "Everything was just falling [into place] tonight. This was a team win."
After City College kicked off, Solano quickly responded with a 37-yard pass to wide receiver Johnie Williams.
City College came back as running back Lanier Logan scored a second touchdown with 33.3 seconds left in the first quarter. Logan accounted for 21 of the team's 36 points, with three touchdowns in the game.
At the beginning of the second quarter, Solano scored a touchdown that put it within two points of City College.
Toward the end of the second quarter, City College…» Read More