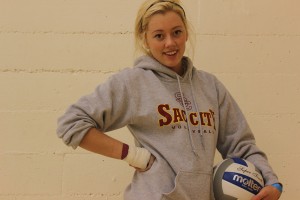 City College volleyball player Maddy Berridge,18, plans on majoring in criminal justice but eventually might end up digging her way to a four-year university.
In volleyball, the term "digging" refers to when a player prevents the ball from hitting his or her side of the court after the opponents has either spiked or served the ball to the team. It's a move usually done with two hands. Berridge's position on defense, called a libero, means she is in the game to attack every ball she can and to get digs, a valuable skill sought after by coaches.
"She is the top digger in the state of California based on her digs per set," says Nash. "She is solid on serve receives and usually passes half our court because of her low errors and consistent pass rating."
Born into a family of athletes and the baby of the bunch, Berridge says she grew up a natural competitor with something to prove to her older brothers and sister.
"I basically had to choose a sport, and get really good at it," says Berridge.
While attending Union Mine High School in Placerville, Berridge was an All Metro player who helped lead her team…» Read More