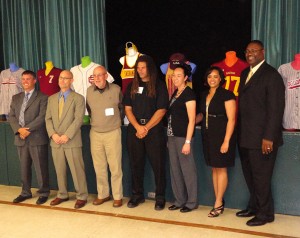 It was a special night for the City College Athletics Department, as the school inducted eight new members into its Athletic Hall of Fame.
The Dante Club hosted nearly 100 people on the night of April 22. The inductees included: former City College wrestlers Blu Taylor, 1987-88, and Leo Woodfork, 1986-87; current track and field coach of more than 40 years Robert Lanza; 1994-96 two-sport stars Denise Minnatee, who played volleyball and softball, and Kim Martinez, who played basketball and softball; track and football player Marshall Land, 1983-85, who also served as student body president; Dell Fishback, honored posthumously for his track performance from 1932-34; and 1985-87 baseball great Clyde Keller.
"This is what the athletic experience is all about," said emcee Mitch Campbell, City College athletic director and dean of the Physical Education, Health and Athletics Division.
Some of the acceptance speeches were emotional and others were short and sweet. Some inductees returned to the Sacramento area from Texas and Florida, where they have started families and careers of their own. When inducted, many mentioned a special place in their hearts for City College, as a place where coaches taught them more than just how to win. Many said…» Read More