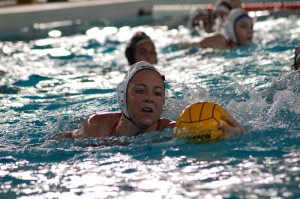 The City College women's water polo team played four matches over the weekend of Oct. 13, and, its members say, they couldn't wait for the opportunity.
"We're excited, nervous – mostly excited," said 24-year old kinesiology major Leanna Lopez, a first year team member.
Lopez' teammate, another first-year member, agrees.
"We're positive about [about the games]," said sociology major Jeri Smith, 36, with a smile.
"I've never played before,"says Smith. "I'm having fun."
The fun comes largely in part thanks to the skills of head coach Steve Hanson, who coached the team to its first victory of the season – an 11-8 win over Laney College.
Lopez praised her coach.
"He's so knowledgeable and the way he's able to relay that knowledge to us in an understanding that everybody gets is really good," she said.
Overall, she added, the team's skills have improved since the season started in September.
"There's been a lot of growth and development as a team and as individual players," said Lopez. "It's definitely exciting to see each game [how] everybody steps up their level."
The team has a 1-12 overall record so far this season, but Hanson says team's spirits remain high during this rebuilding year.
"[Morale] is getting better, despite our record," he said, "But we knew from the very beginning of this season it was going to be…» Read More