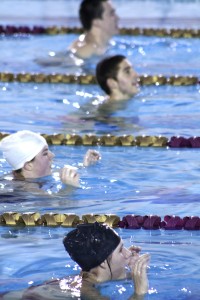 The City College swim team began its practices at the beginning of the spring semester, and now team members say they are eager to begin conditioning and competing with high hopes for this season.
Head swim Coach Steve Hanson says he's enthusiastic for this season's team and what it can accomplish.
"My expectations are to have each individual athlete improve in stroke and have a better showing in the Big 8 Conference," Hanson says.
With an increase from 15 swimmers last season to 24 swimmers this season, Hanson says he believes that the team will not be as limited to compete by the number of swimmers as they were last season.
Hanson also says he believes that having a greater number of swimmers will allow the team to enjoy the more sociable atmosphere of the meets.
English and Spanish literature major Jose Alfaro, who has been swimming for four years and is now on his second year of swimming on the City College swim team, says he is looking forward to hanging out with his teammates and forming bonds and connections with them.
"The meets are always fun as we cheer each individual on as they trudge forward to improve…» Read More