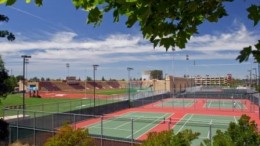 City College's tennis team faced a difficult challenger Feb. 25 as the Panthers lost every match to Fresno City College, the 2013's state champion.
"Fresno is just very deep," said City College's head coach Dave Griffin.
In doubles, the women's No. 1 team stood out, falling to the Bulldogs 8-6 in a spirited match. With the pairing of City College's Vanessa Van Der Valk and Fresno's Nadzeya Stokes, Stokes had her hands full.
"It was a good, very good match." Van Der Valk said. "Coach says that we are improving."