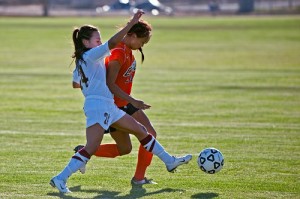 The City College soccer lost 4-1 Sept. 27 to San Joaquin Delta College.
City College, now 0-6 overall and 0-2 in the league, was unable to continue  the pace it established after coming back from an early goal scored by Delta  in the second minute of the opening half.
Sophomore center-midfielder Isabel Becerra, 21, criminal justice and sports  therapy majors, led the comeback charge by dribbling past two defenders  and burying a shot into the upper corner of the Delta net just outside the  diving goalies reach.
"You just have to glance at the goal and pick a corner," Becerra said. "The pressure helps me to control my surroundings."
The goal was made possible in part by a big defensive steal by freshman forward Jessica Pena who delivered the ball down the line to Becerra in enough time for Becerra to drive it into the net.
"We all kept a positive attitude," Becerra said. "We can progress as a team if we keep that mindset."
San Joaquin Delta College scored minutes before the end of the first half. Even though the goal came close to half time, City College kept pushing forward and was inches away…» Read More