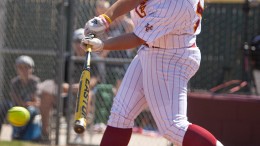 City College's softball team swept Big 8 Conference opponent San Joaquin Delta College in a double header at home March 22 in The Yard for final scores of 10-9 and 3-2 respectively.
Game one began with a monstrous first inning for the Panthers. The team totaled nine runs and nine hits in the inning.
Shortstop Mickey Loveridge started the game with a three-run home run to deep center field and added one more RBI before the inning ended. Catcher Allie Cheetham and Outfielder Megan Winton both had RBIs in the inning, and second baseman Stephanie Bagwell scored a run after getting on base from a fielding error.
In the bottom of the second inning, Delta began to mount a comeback, getting three runs on four hits. The team ended the inning with three runners left on base.