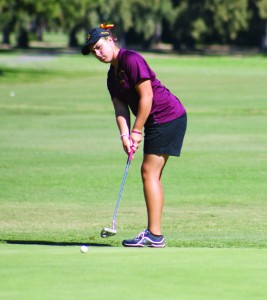 This season City College golf has claimed three victories out of the five Big 8 Conference matches competed in since Sept. 15, but the Panthers have a lot to live up to since three athletes received scholarships to attend universities last season.
"We have a tradition of winning here at City College to uphold," women's golf head coach Tim Kiernan said.
The ability to win in college sports and the attention it brings to potential recruiters has garnered scholarships for last year's City College women's golf team starters Kayla Reide, Michelle Bello, and Elise Van Deusen to colleges such as University of Tulsa, Western Carolina University and California State University Monterey.
"Our expectations for the team are the same every season," said Kiernan. "Win the Big 8 Conference, win Nor Cal, and win the State Championship," he said.
Kiernan said he believes that this year's starters Riley Sexton, Wilma Estafante, and team captain Liz Thomas are capable of stepping into the rather large shoes left to fill by the 2009 Big 8 Conference, Northern California, and California State champions.
Last year, the women's golf team went undefeated in the Big 8 Conference with an 84-0 record and an overall record…» Read More