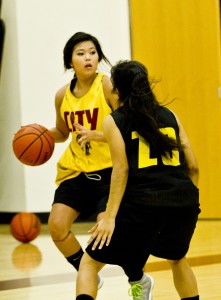 As winter approaches winter sports are starting and athletes are gearing up for the upcoming season. The women's basketball team says they have their work cut out for them with 10 new athletes and a new head coach.
Head coach Devin Engebretsen and his assistant Kim Harada are coaching a team of 10 freshmen and one sophomore this season. Engebretsen previously coached the women's basketball team at Notre Dame High School in San Jose.
Last season, Panther basketball put up a 13-15 overall record, with a 5-9 record against other teams in the Big 8 Conference.
Samantha Lewis, forward, said being on the team is exciting.
"We get along well. We play well," said Lewis about the team's chemistry.
Forward and criminal justice major Enimoa Laui, said that the coaches are doing a good job getting the athletes ready and getting new players acclimated to the college sports environment.
"We just [have to] do a little more work. A little more effort every day, and we'll be all right," Enimoa said. Mariah Bailey, undecided major and forward for the team, said she is confident, not just in the team, but in the coach.
"He knows a…» Read More