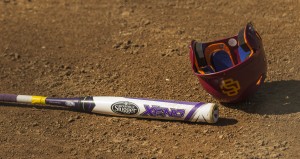 Things got interesting in the top of the sixth inning in the May 2 softball playoff game against Shasta College. The umpires blew a crucial call that turned the game's momentum the Knights' way.
With the second baseman forced to run, Panthers' first baseman Erikka Burke threw to third base. Shortstop Kailey Olcott had her foot on the bag to get the force out, but after a conference between the umpires, the runner was ruled safe. The blown call led to three more runs in the inning, and Shasta took a 9-5 lead.
In the end, City College dropped Game 1 in a best-of-three series in the California Community College Athletic Association Regional Playoffs against the Shasta College Knights in a hard fought 11-9 battle.
Head coach Tim Kiernan was critical of the umpires' call after the game.
"That was horrible, but what can you do?" said Kiernan. "The trouble is, with the umpires in a three-man system, they don't work it enough, and they're all watching one play and not watching any where else — and that's the point of a three-man system.
"We would've been better on that play having two umpires than having someone right there. That…» Read More