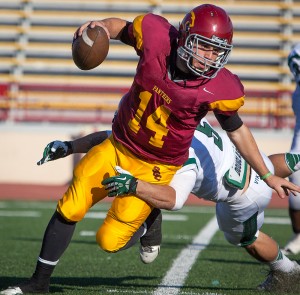 It was the final home game of a rough football season for the City College Panthers, who entered the Nov. 9 game 1-7, as a 27-8 loss to Diablo Valley College capped off the home season. Diablo Valley scored three touchdowns in the first quarter, and that turned out to be all they needed.
The Panthers had trouble running the ball up the field throughout the game. Third-string quarterback Jordan Ares completed a touchdown pass to City College's No. 81 Lamar Sample late in the fourth for the Panthers' only score of the game.
With this being the final home game, it was the last game for several sophomores at Hughes Stadium, one of which is linebacker Cory Nelson, who coach Dannie Walker said brought a lot of energy to the team.
"He knows more about defense than myself or the defensive coordinator," Walker said.
The Panthers, who are now 1-8, will conclude the season Nov. 15 at Laney College in Oakland.