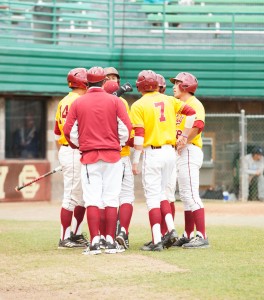 City College snapped its four-game winning streak in a 7-5 loss against the Cabrillo College Seahawks Feb. 28 at Union Stadium.
The Panthers lost a three-run lead in the fifth and sixth innings, as the Seahawks scored six runs on eight hits. Branden Nunn took the bulk of the runs after he replaced starting pitcher Steven Talbert in the sixth inning. Talbert allowed two runs in the fifth.
"We had a meltdown, pitching-wise, where they scored a bunch of runs, and then we just couldn't get that rally put together," said City College head coach Derek Sullivan. "We had a decent amount of good at-bats, but we didn't string enough of them together."
The Panthers started the game out well, compiling four runs in the first four innings, but the lineup that Sullivan put together for the game couldn't produce enough hits late in the game.
Among other lineup changes, Tyler Houlihan started the game at first base over Brandon Langan, rather than his normal third-base position; Alex Muzzi moved over to center field from left field, while Jacob Oliver started at left.
The reason for the lineup change, according to Sullivan, was because certain guys have been struggling lately,…» Read More