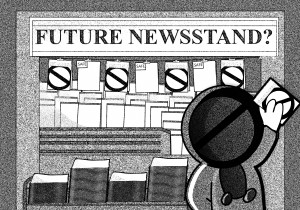 In Copenhagen on Valentine's Day, a man was shot and killed at a free speech event.
This came just over a month after "Charlie Hebdo," the French satirical magazine, was attacked, leaving a dozen people dead, including renowned editor Stéphane Charbonnier.
Japanese journalist Kenji Goto was beheaded in January by members of the Islamic State, a jihadist rebel group that controls territory in the Middle East. American journalists James Foley and Steven Sotloff met similar fates at the hands of the Islamic State in 2014.
On a less deadly, but still very serious scale, there was a cyber-attack on Sony Pictures in November 2014 that was related to "The Interview," a satirical film about a fi ctional plot to kill North Korean leader Kim Jong-un.
These highly publicized attacks have brought up larger questions about freedom of speech and censorship from both internal and external sources.
There has been a steady decline in worldwide freedom of the press. According to the Freedom of the Press Report, 40.4 percent of nations fi t into the "free" category in 2003. By 2014, that global percentage fell to 32 percent.
More than 200 journalists…» Read More