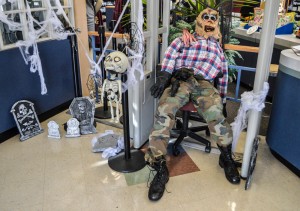 Halloween gives City College students the opportunity to choose their fears in a celebratory, escapist fashion.
Playing with makeup and fog machines is a refreshing respite from actual fears about post-college employment and student debt.
As a mixture of  fledgling adults and seasoned learners, City College students have replaced the plastic, factory-pressed, rubber-band strapped superhero masks of their youth with a veneer rooted in over-confidence and ambition.
City College students today love to be scared of a bleak reality because it mirrors their own outlook of their projected futures. This dilutes the impact of Halloween and reduces it to the equivalent of an autumn version of non-religious Easter: a reason to have a party and