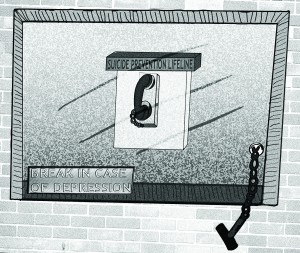 According to "The American Freshman: National Norms Fall 2014 Survey," 9.5 percent of incoming college students frequently felt depressed during the past year. This figure has increased 6.1 percent over the past fi ve years. Of the students surveyed, 34.6 percent felt overwhelmed. That is almost one in every three students feeling stressed out and overwhelmed.
College can make or break students when it comes to stress management. This skill isn't listed on syllabi — it's a consequence of the condition of the educational system and the way the world works.
When you're at school, professorswill say, "There is nothing more important than your education."
At work, you'll hear about how the job experience you are currently getting will be the foundation for the rest of your life, and how success in your career is equivalent to success in life itself.
And, at home, you'll hear that family comes first, no matter what.
Balancing school, work and life is something that students try to cope with every day on campuses across the country. And some students are better at it than others.
Feeling depressed and overwhelmed can happen to anybody. Sometimes it's the class clown who is struggling…» Read More