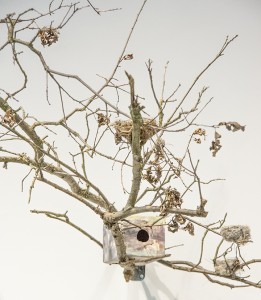 Kondos Gallery opened its newest exhibition, Birdhouses 4, with a lively reception April 3 at City College.
The fourth annual Birdhouse exhibition at Kondos Gallery featured local artists' takes on namesake birdhouses, its opening reception packed-to-bursting with guests of which many knew one another.
"It's crowded in there," said attendee Jerry Norris. "But I did get around to all of the houses."
From the rustic to the sleek and modern, birdhouses of all sorts comprise the display at Kondos Gallery. One formed of crumpled sheet music. Another a multi-family avian dwelling shaped as a cross with Mickey Mouse plush impaled to it. An ornate paper castle with scenes from classic fairy tales peek out through sides cutout of towering cardboard creations. A street lamp turned dwelling.
Some works suspend from the gallery ceiling, others stand upright on shelves, while still another rests amid depicted trees. None the imitator, a true tree limb coddling a nest appeared to sprout from a gallery wall.