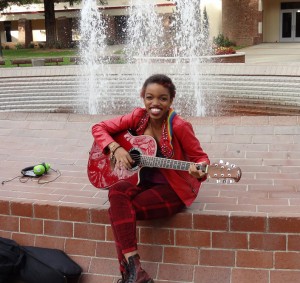 Being a starving artist is a rite of passage in the music industry. Having to struggle for your music gives it a soul.
Nothing could be truer for starving artist April Walker.
Walker has lived in Sacramento for 11 months and is in her second semester at City College. She is a self-proclaimed free spirit and born-again hippie. Walker, known by her stage name Space Walker, is an up-and-coming, singer-songwriter who believes that an education from City College can help further her career in music.
Confidence in herself and her music has not come easy for Walker. Being labeled a misfit, she says, plagued most of her childhood while growing up in Fairfield.
"I thought growing up that my dreams of being a musician were impractical," says Walker. "I thought if I couldn't succeed at it then I shouldn't even try."
These deeply planted seeds of doubt became uprooted during a trip she took to Costa Rica.
"The scenery and nature there is so beautiful," Walker says. "I had a lot of time to contemplate the issues in my life. I came back to Fairfield and I knew I was going to do whatever it took to accomplish my goals."