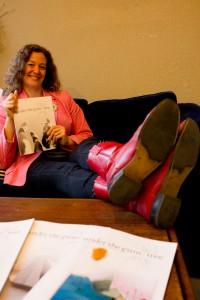 The red boots called to her from the thrift store shelf. She wanted them, but she convinced herself she wouldn't wear them. The boots taunted her—she couldn't shake them. She bought the red boots, and they sat on the shelf in her closet for almost a year. It didn't matter what outfit she tried, they never looked good enough.
Then one day, she decided she wanted to be the girl who wore the red boots. She wanted to be the girl who was proud of whom she is. She wanted to be bold and beautiful.
The red boots don't stay on the shelf anymore.
A self-proclaimed woman in progress, Janna Marlies Maron is living the life she wants, with no apologies. Along with her husband, Jeremy, Maron runs ThinkHouse Collective, a co-workspace in downtown Sacramento. She also produces "Under the Gum Tree," her own literary magazine, teaches English at City College, freelance edits, and still makes an effort to live boldly every day and tell her story without shame.
"I'm tall. I have long, curly hair. I don't blend into the crowd, and I have a really loud laugh," Maron says of herself. "That stands out."
On a recent October…» Read More