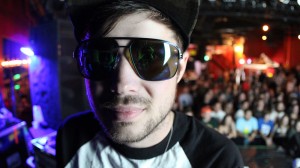 Alter egos make for great entertainment. Take, for example, Marshall Mathers. As Eminem, Mathers made it big. And on the silver screen, as well as in comic books, via cartoons, and even as illustrated on lunchboxes of the founding fathers of the old school, Clark Kent saved the day as Superman.
But alter egos aren't just limited to Hollywood. According to one City College student, alter egos exist locally too.
"I deejay and make rainbow lasers shoot from the eyes of Grizzly Bears," says 24-year-old City College graphic design major Curtis Currier.
Well, Currier says he doesn't actually do the whole disc jockey/rainbow laser thing—his alter ego does.
Meet DJ Jurts, Currier's alter ego. When he's Jurts, Currier express himself in the Sacramento music scene as a dee-jay.
"[Jurts is] my DJ alter ego," says Currier. "I've been DJ-ing for about three years now. Before that I was skateboarding."
Not just your run-of-the-mill skateboarding though. Currier was on the semi-pro circuit, getting attention from skate apparel companies like DVS.
"I was getting shoes and stuff from DVS and some other companies, but I just never made any money doing it. It was fun though. I got to…» Read More