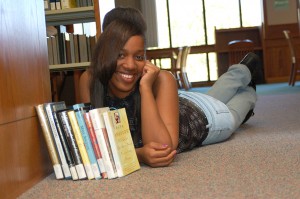 City College student and poet Marlette Reaves is a 23-year-old English major who says she's known for her trademark love poems that were influenced by her yearning for true love.
Inspired by music and the desire to have an actual romantic relationship, Reaves says she began writing at the age of 14 and has been sharing her raw emotion ever since.
Reaves, who won third place at the City College Poetry Slam contest on Sept. 10, aspires to encourage people of all ages who go through the highs and lows of being in love and says she hopes to touch as many souls as possible throughout her journey of becoming a famous poet, author and an accomplished song writer.
"When I recite, I want people to be inspired to want true love, to get over heartbreak and to understand that people only put you through dirt so you could see that you want to be clean and free," says Reaves.
Reaves' love poems not only inspire her fans who can watch her recite them on her YouTube channel, her friends say, but also those who are close to her because they are relatable and pertain to real life.
City College student Terry Buford, 21, is a close friend of Reaves and an inspiring poet. He says he remembers a Valentine's Day card that Reaves gave him…» Read More