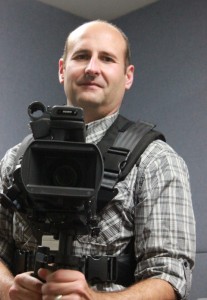 Wheeling more than 100 pounds of camera equipment into the room, professor Nathan Schemel sets up a complicated system of metal poles, gears, and wheels that grip across the room as his students watch, fascinated and bemused. With the film lights turned on and heating up the room, he shows how it works with ease.
Schemel, 34, teaches filmmaking classes at City College.
"I believe the world's full of opportunity, and being ready for that opportunity is an important part of being a professional," the Sacramento native says.
Schemel produced a show for the Sacramento Kings called "House Party". As a wrap-up and a set-up for Kings' games, the show ran for five years, according to Schemel, and introduced him to his next gig: a show for the DIY network. Bill Swan presented an opportunity for Schemel to produce a show on the network called "Turf War."
"I had the creative side, but I also had the sports mind," says Schemel. In Swan's eyes, Schemel says, this made him ideal for a competitive landscaping show.
A former student, Skip Smith, 55, touts  Schemel's filmmaking experience as a major factor in the class's effectiveness.
"It makes the difference," he says.
Schemel initially didn't break into filmmaking for the artistic aspect.
"If I got into filmmaking, that would give me diversity in my life," remembers Schemel, who earned a…» Read More