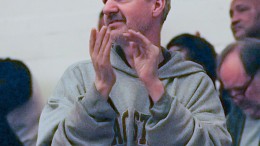 Bright lights reflect off hardwood floors, scoreboards and shot clocks light up, and the crowd anxiously anticipates the start of the game. The bleachers are filled with alumni, friends and family of players from both home and visiting teams, and fans of basketball. This is the typical scene for home games at City College.
And Randy Hicks, 49, is usually part of that scene, taking his place among the crowd of cheering fans. Hicks, who has been attending games since 1998, said he uses his love of sports and cheering for the many City College athletic programs as a form of therapy to help himself cope with a painful disability.
Most fans that come to the games at City College are currently students or alumni, but Hicks has never attended classes, nor does he have a relative that has. In fact, he has absolutely no connection to City College other than living the area.
"When I moved up the road I said, you know what? City's here, this is my school. There's a lot of history here," said Hicks. "There's a lot of history at Sac City."