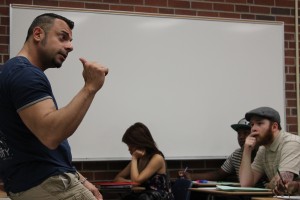 Teachers are about as diverse as classrooms. Some may be mean, others empathetic. Some grade hard, some give extra credit. And some are just born to teach.
Professor Steve Cirrone is one of the latter.
"I never wanted to teach until I realized I was born to teach," says Cirrone, who cites a childhood game of teacher-and-student with his younger sister as the moment that revelation took place.
Cirrone, who has taught English and creative writing courses at City College for the past five years—and 15 years prior at community colleges from Virginia to California—has a knack and a passion for teaching rivaled by few.
"He is hands down my favorite teacher at SCC," says Brittany Bogan, a student of his and also the editor-in-chief of last year's campus literary journal Susurrus. "I've made sure to take at least one class of his every semester I've been here."
Cirrone has certainly shown his passion for learning: He earned a bachelor's in English and Russian literature from Binghamton University, SUNY. Shortly after receiving his master's in English literature from Claremont University, he landed his first teaching job at the age of 22. He later went on to earn a doctorate in Renaissance…» Read More