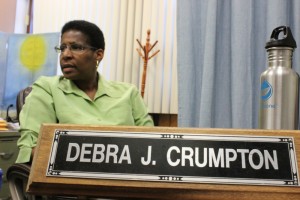 The quality of the education someone receives is said to be only as good as the quality of their teachers. There is no doubt that that there are teachers with different teaching styles and students with different learning needs.
Debra Crumpton, City College business technology professor, has been an instructor for five years, and all of those years at City College. One of her biggest tools as a teacher is to understand and relate to all her students.
"Community college students matter and they matter largely. I think they are the most important college population because in the world of changing demographics, they are the future," Crumpton remarked.
Crumpton joined the military when she was 19, and retired 18 years later as a Major in the Army. She went on to start a mortgage business.
"I didn't know I wanted to be a teacher," says Crumpton. "From the speaking and consulting I was doing [in the mortgage business], I thought maybe I got to teach and I started exploring the idea."
In Crumpton's classes a hint of her military experience is present in the way she teaches. She stands firmly with authority, enforces discipline and speaks loudly—but always with kindness.