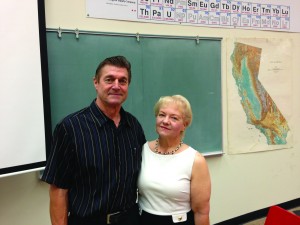 IT BEGAN ON A relatively routine week in the fall of 2001 for City College philosophy Professor Lois Zeimet: She commuted to work, taught class, commuted home and went to bed. Little did she know that over the next few days she would join the over 200,000 women each year in the U.S. to be diagnosed with breast cancer and that her life would be forever changed.
The discovery came after Zeimet rolled into bed on a cold night and felt a surprising amount of pain and tenderness in her right breast, prompting her to investigate. The inspection exposed a strange mass in the breast. She feared the worst.
"I knew something was wrong," Zeimet said.
The next day, when she awoke, the 45-year-old professor went about her day of scheduled classes, instructing her students as normal, all the while holding back a nagging trepidation.
After work she went directly to her doctor at the hospital at Travis Air Force Base near Fairfield for examination.
There, she was given a battery of tests—blood tests, mammograms, an ultrasound, etc.—to determine what was going on and what action needed to be taken.
Her hopes that this had all been a false alarm…» Read More