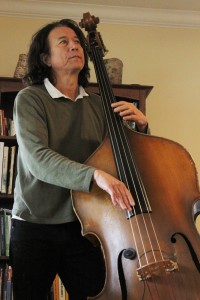 The bar is dark and you can hear the clink of glasses and laughter. But only just. There is a jazz combo on stage and they are swinging through a Duke Ellington tune. The horn player is softly blowing and the smoky sound transports the listeners back in time.
The bass player is wrapped around his instrument like it was a woman. His left hand is caressing her neck and his right is wrapped around her waist. His head is bowed and his eyes are closed as he reaches out with his senses to feel the song and the mood of the other players.
Every note is perfect; every bar pushes the listener further into the mist.
Bassist Gerry Pineda has been playing music since he was 9 and at the age of 57 is regarded by his peers as one of the best musicians in town. He has given private lessons for over 20 years, and since 2009 has taught at City College. In that time he has introduced hundreds of students to the transcendent joys of playing music.
Pineda, who plays in at least eight bands, is a slim, dark fellow with long quiet fingers and a wicked…» Read More