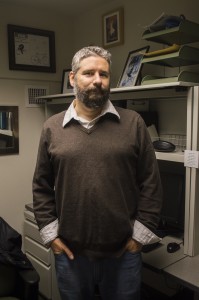 The décor in TEC 202 makes it evident that its occupant is a bicycle enthusiast. All four walls of this faculty office have varying bicycle décor that varies in size and style. A paper sign "Keep Calm and Bike On" covers the small window on the door, and below is a sign of the same size that reads "Lane Ahead."
A wall-mounted bookcase on top of a horizontal mirror fashions a bicycle-themed bookends and two saddles just below the shelf. "Put fun in between your legs," reads the framed vintage photo of a woman in a red dress riding a bicycle. A storage shelf with a Starbucks "Verismo" machine nestles on top with a box of coffee pods and a bottle of vanilla-flavored syrup next to it. Behind the office door is a full-sized black bicycle frame with three "I voted" stickers next to each other and other politically themed decals.
In a chair sits Jared Anderson with his legs crossed wearing a green shirt that reads "Hornet Debate" with a circular logo that has two G2 Pilot pen silhouettes in an "X" and the letters "CSUS" in each fractioned space.
An adjunct faculty member, Professor Jared Anderson teaches Argumentation…» Read More