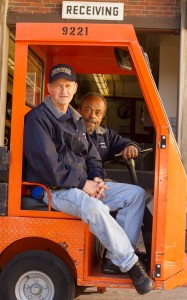 A FLEET OF SMALL "cone orange" trucks sits dormant outside the receiving area at City College as the custodial staff takes a mid-morning break.
This brick building near the center of campus houses the shipping and receiving dock, a handful of offices and a small break room where a quartet of men sit in creaky chairs and chat over snacks. These men serve as the stewards of the campus, tasked with maintaining the buildings and grounds.
City College custodian Harry Outlaw  has worked on campus for 39 years and will be retiring at the end of this year. He sits in the far corner with a grin lighting up his face.
"We keep the place clean and tidy, set up for various functions, and teardown," says Outlaw as the other custodians in the room nod their assent. "We basically keep things running around here."