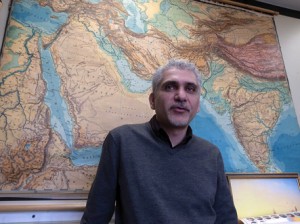 It's not always easy to find a place in this world, but often the path to its discovery inspires compassion and action that otherwise would never be realized.
City College history professor Riad Bahhur is known on campus for promoting awareness and a sense of global citizenship. He attributes his advocating nature to his own struggles as a young Palestinian growing up in the U.S.
"A very important life lesson for me was when I became grateful for feeling like an outsider," said Bahhur. "There is a valuable richness to feeling like an outsider. It's a gift to see the world in a different perspective."
Bahhur was born in Venezuela and raised in Cleveland, Ohio. His father left Palestine in the 1950s after the 1948 Arab-Israeli war, which drove many Palestinians from their hometowns and villages.
Bahhur says he became aware at a very young age of conflicts and struggles happening at a global level. Unlike most kids and even young adults in the U.S who struggle to find a connection with international counterparts, Bahhur has always been actively seeking truth and spreading awareness.
"It's one of the effects of being Palestinian in the U.S: being aware of the struggles…» Read More