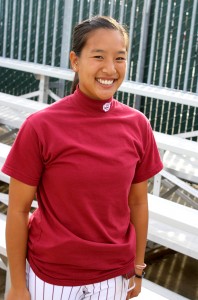 All it took was a swift swing of a bat, and the ball flew into the unknown as the batter ran toward first base. The dirt on the bottom of her shoes blew every which way like a sandstorm in the desert.
City College social science major Kathy Fong pitches for the college softball team. She not only stands in the middle of the field serving swift pitches to the opposing players, but also is an offense player.
"The best part about being on the field is the opportunity to play and just being with my team," said Fong.
According to Head Coach Robert Maglione, the team has been doing well this season with a 14-3 winning streak.
"We are in the middle of the tough part of the conference schedule," Maglione said. "This team in comparison to other softball teams has been doing well."
Fong had ACL (anterior cruciate ligament) surgery last fall and, as a result, says she's not being doing as well as she did the previous season. However, that hasn't stopped her from going out on the field and giving it her all.
Though Fong spends a great deal of her time on the field, she…» Read More