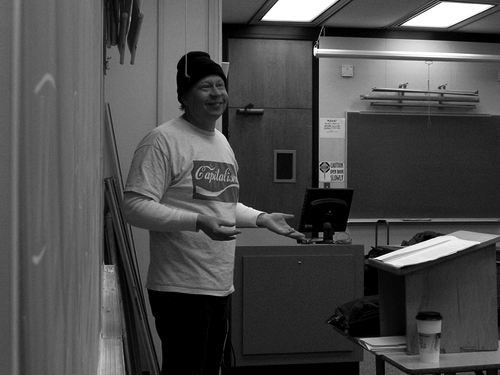 Pacing back and forth in front of a packed classroom in the Business building, 42-year-old Andre Jensen is doing what he loves most: teaching. As he addresses the audience of philosophy students, ideas seem to bounce around and permeate the crowd during a colorfully orchestrated lecture; the energy in his classroom is undeniable.
Like most people with an uncommon fervor for their profession, Jensen puts his heart into his work. For more than 13 years, Jensen has striven to structure his teaching around the individual needs of the student.
Believing that every student is capable of success, Jensen says he attempts to simply bring out those attributes most conducive to achievement and guide them in the right direction. Building affinity with the students is essential in this process.
"Developing the rapport with the students is absolutely critical," says Jensen of his teaching style. "If you can get the student awake and feel like you care, then they'll do the work."
With uncompromising charisma and a passion for instructing, Jensen uses an unorthodox approach to engage his students. Utilizing a smooth flow, peppered with comedy and amusing anecdotes, Jensen provides students with a pleasant and insightful teaching style that is as unique…» Read More