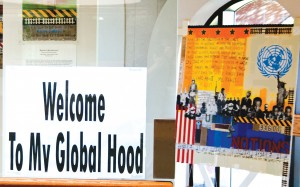 In the tradition of art popularized by gritty, street artists like New York's Jean-Michel Basquiat and London's Banksy, City College presents a collection of paintings that challenge the campus community to discuss racial injustice and environmental activism.
"Welcome to My Global Hood: A Conversation with the Artist Milton Bowens" held Oct. 11 in the Student Center at City College featured a collection of images fusing poetry, art and history into a message of social responsibility.
Oakland native Milton Bowens is the artist responsible for bringing his images to City College.
While Bowens isn't a student or professor, his exhibit was chosen because the Cultural Awareness Center felt his exhibit was powerful and would capture people's attention, according to coordinator Victoria Henderson.
"He's an artist who truly educates," Henderson said.
Students enrolled in the Extended Opportunity Program and Services program were in attendance.
"Some of my students had worked in Milton's program over the summer and their work, along with Milton's, was put up on display in the library," said Kenneth Times, a counselor at EOPS. "After the [event] the students felt that the presentation brought his work to life even more so."
The final presentation, "Does Art Matter? with Milton…» Read More