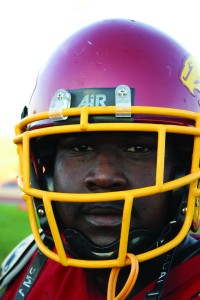 Imagine traveling more than 2,775 
miles, spending 12 hours on a
plane and leaving family to follow your
 dreams. It is a risky move, but well worth
it when it comes to football for one City 
College student.
Joemeko Culmer, 19, also known
 as Meko, was born in the Bahamas and
 made his way to the United States for his
senior year of high school in 2008. He decided to start an adventure on his own, leaving his mom, dad and two sisters back home.
America is known as the land of 
opportunity; it promised him a better 
education, a job and freedom to make 
his way as an adult. Most importantly,
he says, it gave him the opportunity to 
play football.
"I always wanted to be a linebacker,"
says Meko, with a slight accent, which 
is what he became on the City College 
football team.
Weighing in at approximately 215
 pounds, Meko has a lot of muscle and a
lot of heart to offer the game. When he came here, it was the first time he had played football on a team. Only recently has football been played in the Bahamas.
"America's more spacious, like bigger then home, but I don't like how far everything…» Read More