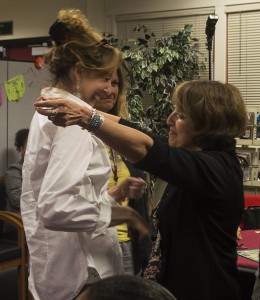 The social conscience of Sacramento City College is checking out of the library. Rhonda Rios Kravitz, the dean of Learning Resources, is set to retire this month. A mentor, activist and role model for students, colleagues and the community, Rios Kravitz is more than the head college librarian to many people on campus.
Students, faculty and staff gathered for a party in late September at the Cultural Awareness Center in her honor. Bob Marley's "Get Up, Stand Up" and other songs of social revolution played in the background, while Rios-Kravitz circulated the room to greet each person by name.
"If you want to know what she means to this college, all you have to do is look at the number of students who attended," says history Professor Riad Bahur. "You never see this many students at a faculty retirement party."
Like many of her colleagues at the party, Gayle Pitman, professor of psychology, says she admires Rios Kravitz's convictions on equal opportunity for all, education and many other social issues.
"She is so passionate, strong, committed to the students and social justice," says Pitman. "She is a beacon of light for me."