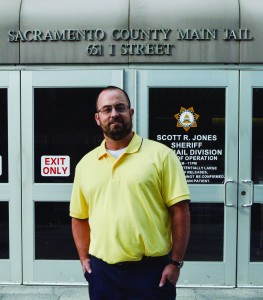 Crisply pressed button-up shirt, fresh dark jeans, polished boots, topped off with a classic Movado Museum watch wrapped around the wrist of his tattoo-free arms. The sharp, educated appearance shows no trace of the past that has helped mold him into the scholar he is today.
Stuart "Andy" Winn, 37, is a student in his last semester at City College. Winn has been waiting to hear all semester if his application to the University of California, Berkeley, was approved for transfer. Berkeley is his dream university. Winn has a good chance. He holds a 3.7 transfer GPA and is completing his Associates of Arts degree in sociology.
Winn has been accepted into his backup school, University of California, Los Angeles. But he is waiting to hear from Berkeley. A transfer specialist has told him that he has a 90 percent chance of being accepted. There, he plans to earn his Bachelor of Arts degree in sociology. After Berkeley, Winn would like to pursue his master's in business administration at Stanford through a transfer program established between the schools.
Despite setting forth this plan, Winn has not always had such a clear vision of the road he was heading on.
"The…» Read More