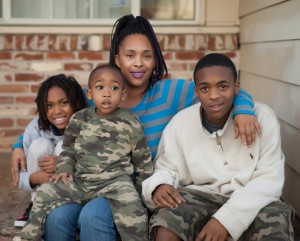 Beep, beep, beep, snooze. Beep, beep, beep, snooze.
Five more minutes, and the alarm clock still manages to win the fight every morning. Wake up, wash face, brush teeth, and eat breakfast.
It's a routine most parents live by.
Especially single mother of four Ursula Yost-Johnson, 33, a City College student. She never stops to think about herself as she strives to make life better for herself and her children. Through all the trials and tribulations, she never stops or gives up. She fights every day, not to fail, even when life says, "Give up." Instead for Yost-Johnson, hope whispers, "Just try one more time."
When Yost-Johnson was 24, she says she made a regretful mistake that ended with her going to the Central California Women's Facility, also known as Chowchilla, for two and a half years while pregnant with her third child.
"I thought my life was over," says Yost-Johnson. "I thought I would never see my babies again. It was like dying."
She says life was telling her to stop fighting, to just let go. But she couldn't, at least not with a bun in the oven. She eventually made contact with prison offi cials and was approved…» Read More