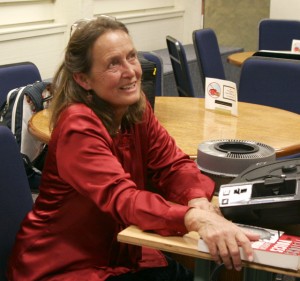 A woman with shoulder length brown hair, highlighted in well-earned gray, is sitting behind a slide projector rapidly clicking through a carousel of slides and asking people not to look yet.
"I've driven over 200 miles over bumps and hills to get here and I want to make sure that the slides don't stick," Ilka Hartmann explains.
Ilka Hartmann is an internationally renowned speaker and photographer and she was at City College Nov. 5 in the Cultural Awareness Center to share her experiences while photographing the fall of the Berlin Wall.
Hartmann, who lived in Germany until she was 24, shares some of her personal history, during the presentation.
"I came here during the Civil Rights Movement. I think that because I am from Germany, with World War II and the Holocaust in its past, my eyes were opened to the suffering of other human beings," Hartmann says.
It has been 20 years, this month, since the fall of the Berlin Wall. Hartmann, while showing her photographs, also shares the history of the Berlin Wall, from beginning to end.
"When I heard that the wall was coming down, I just got on a plane. I needed to be there to…» Read More