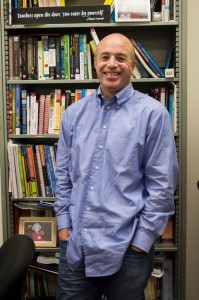 For many, attending community college is a means to earn a degree in order to gain employment. For others, the "community" in community college means working with teachers who truly care about the future of their students in an effort to better themselves.
Not only did City College English professor and department chair Joshua Roberts experience the latter scenario, he decided to become one of those teachers.
A self-described poor student leading up to his graduation from Kennedy High School, Roberts began attending City College in 1991.
"I was a horrible student in high school," says Roberts. "[It wasn't] because I wasn't sharp enough, I was just a bad student. When I came here, I was pretty clueless as to what I wanted to do. I kind of took classes on and off for about five years, just enough to still be in school but not really."
It was at that point that Roberts decided he wanted to become a teacher.
"It was the instructors here that really helped me learn how to be a student and focus myself and go after the things that I wanted," says Roberts, who shares with his students that he attended City College and went through similar struggles as a way to help them feel like he knows what they're going through. "I…» Read More