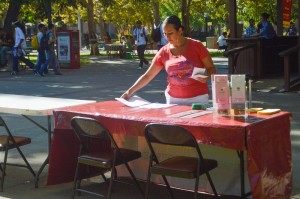 Students and visitors who made it out to City College Sept. 11, were delighted by live music, $3 barbecue lunches and school clubs competing for their attention.
Centrally located in the quad, a nearly 12-foot banner proclaimed in all caps: "WELCOME DAY." Music resounded across campus, in a cover of the song "Blurred Lines" by Robin Thicke and Pharrell Williams.
A sizable crowd gathered for the contemporary melodies of the band Solsa, and at least a few among the audience were jammin' out to the beat, notably a girl with pink hair and a dinosaur tail.
Flanked by towering red and yellow Cultural Awareness Center banners, the band also did a duet of "Treasure" by Bruno Mars.