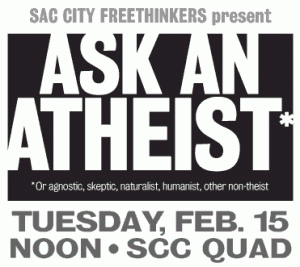 The Sacramento City Freethinkers, a club of agnostics, skeptics and non-theist students, will host an event called Ask An Atheist on the City College Quad, Tuesday, Feb. 15.
The event begins at noon and will give students a chance to pose questions regarding religion, science and moral issues to members of the Freethinkers club.
According to the Freethinkers website, the club allows students to socialize with like-minded individuals, question religious and theistic beliefs and promote free thought through campus and community events.
For more information, click here.