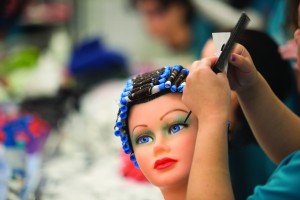 Hair, make up, nails are all important aspects of the cosmetology department at City College. The head of the cosmetology department, Marcia Bonawitz, has a great passion for teaching cosmetology at the college.
"I've always loved teaching, since I was younger," said Bonawitz "I used to set up a chalk board in my room and call in my siblings to play teacher with them."
Bonawitz has taught at eight different beauty schools in her career before coming to City College, including three Federico beauty schools, two country club hairstyling schools, Lyle's cosmetology and three different Jerry Lee cosmetology schools.
The cosmetology program provides a variety of services for students and staff attending City College as well as the public. Today the services provided were free nail polish changes and paintings by the future nail techs of City College.
"It is a hands on experience for the students so they get practice for their state board exam at the end of the semester", explained Bonawitz.
She explained that in order to pass the exam the nail tech students must know and conduct everything they learned from the program in order to get their license.
Kanesha Jackson, a nail tech student who…» Read More