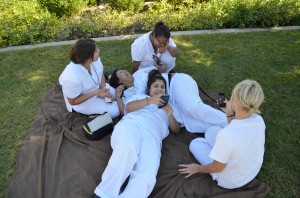 By
MJ Ongoy
| Staff Writer
Sept. 30, 2014
It's not uncommon for average college students to "trim the fat" off their budgets as soon as a new school semester begins.
Little things like a night out or regularly getting a good haircut or manicure starts to fall to the wayside, as other things like textbooks and parking passes start to take their place.
But if you can afford a can of traditional spaghetti sauce, which only costs $1.02 at Target, you can treat yourself to a fresh manicure or haircut from the cosmetology students at City College.
The cosmetology school at City College