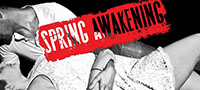 I approached "Spring Awakening" with a certain degree of anti-hype. After all, just because the show won the 2007 Tony Award for best musical doesn't necessarily guarantee it to be up-to-snuff, as evidenced by the 2010 best musical award winner "Memphis," which was a terrible experience on Broadway Sacramento's stage.
The Folsom Lake College Falcon's Eye Theatre production of "Spring Awakening" at the Harris Center for the Arts, however, is excellent.
Lead actors Elio Gutierrez and Holly Wilson, as Melchior and Wendla, expertly carry this production based on a controversial late-19th century German play about teenagers discovering their sexuality and the painful truths about abortion, child abuse and suicide.