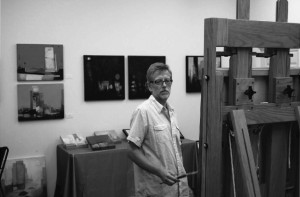 It was just after the rain stopped and the sun had just come out. Artist Zbigniew Kozikowski saw a line of umbrellas moving toward a light along the Berlin Wall that separated East and West Germany.
He couldn't see the people, but he remembers thinking the people didn't need protection from the weather.
Those umbrellas would provide inspiration for the artist for years to come.
"We are always hiding under something," says Kozikowski. "These colorful umbrellas going toward the light…the umbrellas were so colorful."
Light and color and umbrellas dominate Kozikowski's paintings on display on the second floor of the Learning Resource Center at Sacramento City College. His pieces, both large and small, overflow with bold colors and blurred lines showing an abstract view of the world.
Kozikowski has a long-time relationship with City College, he says. He and his wife, Barbara Kozikowska lived near Land Park around 20 years ago. Kozikowski's son would eventually take classes at City College. His wife, Barbara now works as an account clerk in the business services office, and his sister-in-law, Yvonne Maller, worked at City College for years, serving as dean of Learning Resources from 2003 to 2007.
Maller died of cancer in…» Read More