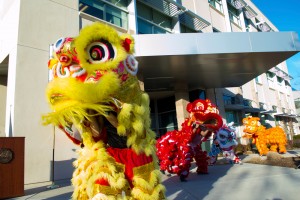 Sacramento City College's West Sacramento Center opened its 5-year anniversary Jan. 29 with a lion dance by the Eastern Martial Arts group to celebrate the Chinese New Year.
West Sacramento Dean Art Pimentel organized the event to commemorate the campus' opening in January 2010 when the Sacramento City College's downtown and West Sacramento's Harbor Boulevard's satellite campuses merged to become what it is today.
The program included speeches from City College President Dr. Kathryn Jeffery, Los Rios Community College District Chancellor Dr. Brian King, City of West Sacramento Mayor Pro Tem Chris Ledesma, West Sacramento Mayor Christopher Cabaldon, and Washington Unified School District Trustee and City College's Director of Advancement Mary Leland and finished with refreshments.