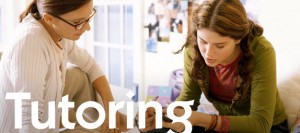 City College offers a multitude of tutoring services for students experiencing difficulties with their studies. These programs are headed by professional tutors and student assistants to help students in math, science, English and many other subjects. In honor of National Tutor week, they are being recognized as well as students being informed of the services available to them.
"Absolutely (students benefit from tutor sessions). When a student gets an answer right, right away, they're happy," City College tutor Son Nguyen says.
Nguyen works in the Business Division Open Computer Lab in Room 151 of the Business Building, which he says is filled with students trying to obtain help in computer information science classes.
"Lab is reserved for students taking any computer class, or any business class," Nguyen says.
The lab is open Monday through Thursday from 8 a.m.-8:15 p.m., and on Fridays from 8 a.m.- 4:15 p.m.
Math tutor sessions also take place in multiple locations. The Math Lab in Rodda Hall South Room 162 Offers help in any math related subject—statistics, business math, chemistry, physics—according to tutor Matthew Kemmerle.
"I might be tutoring a lot of algebra students, and those questions might be faster, and sometimes, I might be doing a lot more chemistry or calculus based questions, and those questions might take a bit longer," Kemmerle says. "I could say sometimes, in an hour, I might see as many as 10 students, maybe more."
The Math Lab is open Monday through Thursday from 8 a.m.- 8 p.m., 8 a.m.- 4 p.m. on Fridays, and 9 a.m.- 3:30 p.m. on Saturdays.
In the same building, Room 122, students can head to the MESA tutoring program for a more diverse selection of assistance.
"We cover pretty much anything involved with engineering, science and mathematics," tutor Micah Patterson says.
This tutoring program offers a little something extra, according to Patton.
"It's a little more personalized," says Patton, who believes both tutor and student both greatly benefit from the interaction.
More information about tutoring can be found on the City College website, or just stop by one of the tutoring rooms and make an appointment.