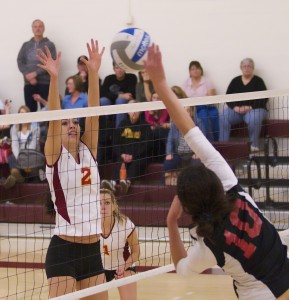 Panther volleyball opened its post-season with a win against City College of San Francisco Nov. 22 at in the first game of the NorCal regional playoffs in the North Gymnasium.
The women's volleyball team has won its last seven matches, and Tuesday night's sweep of the Rams (25-21, 25-19, 25-20) made it eight in a row.
Despite the win, women's volleyball assistant coach Josh Velasquez said the team played better in previous games.
"We haven't been very consistent," said Velasquez. "The last couple of games we played very strong, but tonight was kind of flat for us."
City College entered the NorCal regional playoffs as the No. 8 seed and competed against ninth-seeded City College of San Francisco.
The Panthers will travel to play top-seeded Cabrillo College, Saturday, Nov. 26.
More information is available at the athletics webpage.