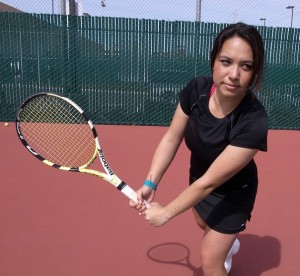 If hard work really does always pay off in the end, neuro-science major and City College tennis player Whitney Imura should have a lot coming to her.
Imagine waking up every day at 6 a.m, being in class by 6:45 a.m, leaving at 11 a.m,
being at work by 11:30 a.m, clocking out at 3 p.m, practicing until 5 p.m, doing homework until 8 p.m, sleeping,  then waking up to do it all over again.
At 18 years old, Imura has been managing her job in a medical clinic as a receptionist, schoolwork and playing tennis at City College for almost a year now.
"It's hard…I have 18 units this semester," said Imura. "I don't even remember the last time I went out. I'm always busy…sometimes I even end up doing homework on the bus."
Imura originally started playing tennis two years ago for Christian Brothers High School.
"My family and I have always been big on tennis. I really wanted to play for a team," said Imura.
Upon entering City College, Imura recalled that she  contacted Head Coach David Griffin, expressing her interest in playing for a college tennis team. He just told me to come to practice, and I've been playing here every since," said Imura.
City College is currently 1-4, but according to Imura, none of the players or…» Read More