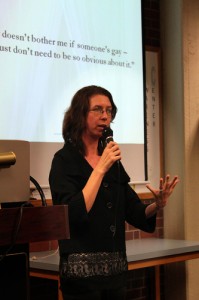 The phenomenon of homophobia and heterosexism in today's society was examined Dec. 1 at the City College Cultural Awareness Center.
City College Psychology professor Gayle Pitman, who hosted the lecture, defined the hallmarks of homophobia, and discussed the adverse effects of heterosexism, or the assumption that an individual is heterosexual.
Pitman began the lecture by turning the tables and asking three heterosexual volunteers questions that many lesbian, gay, bisexual, transgender and queer LGBTQ students face on a regular basis, such as, "What do you think caused your heterosexuality?"  And,"Is it possible that your heterosexuality is just a phase that you might grow out of?"
Psychology major Tighearnan Lee says he encounters homophobia every day.
"A lot of people that already know about homophobia and heterosexism came as a refresher," said Lee, 25. "It's kind of hard to get people that aren't interested in it to listen to the lecture."
The lecture, which drew a crowd of about 30, even prompted some debate among attendees as to whether or not one's disagreement with a person's sexuality constitutes homophobia.
Pitman emphasized the importance and prevalence of covert, or passive-aggressive, homophobia, as opposed to the more overt, riotous, sign-waving variety. While blatant acts…» Read More