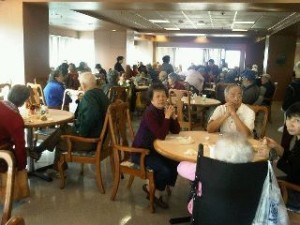 Fifteen units, weekly quizzes as well as biweekly deadlines—that made up the load of work I carried just for school. Between that, a new job and helping my family, I also had to find time to squeeze in 15 hours of volunteer work for a service-learning project I dreaded.
When I was assigned my service-learning project for a psychology class, I added it to my list of things I did not look forward to doing. However, when I arrived to start in October as a first-time volunteer at Meals on Wheels' Skyline site and found the coordinator prepping to feed 80 seniors alone, I was more than eager to step in and help.
Meals on Wheels is a nonprofit organization dedicated to delivering nutritional meals to seniors across the nation. According to the Meals on Wheels Association of America website, the service provides millions of meals to seniors experiencing hunger and challenged by limited mobility.
Today, many nonprofit organizations are overwhelmed and understaffed. According to the National Center for Charitable Statistics, there are over 1 million nonprofit organizations in the United States. That number is drastically disproportionate to the 62,000 active volunteers who were accounted for in the 2010 census,…» Read More