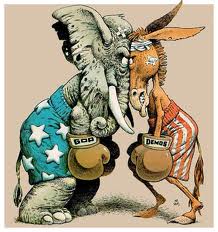 As the 2012 presidential election approaches, four Republican candidates are duking it out for the chance to take on President Barack Obama in the race to become the nation's leader for the next four years.
The Express asked City College students about their thoughts on the Republican candidates including: former Massachusetts governor Mitt Romney, former Speaker of the House Newt Gingrich, former U.S. Senator from Pennsylvania Rick Santorum and Ron Paul, medical doctor, author and also a member of the U.S. House of Representatives.
The consensus among the seven students at City College seemed to be split down the middle, with some wanting Obama for reelection and others wanting his term to end.
"[Mitt] Romney is a little more moderate than Newt Gingrich is," said Ronan Crotty, major undecided. "I am not really a fan of either of them. I don't really agree with any of their foreign policies, and I am not a fan of small government."
Disappointed by the Republican candidates, Crotty said Obama should continue another term.
"Mitt Romney has a better chance at winning against Obama, but I think that Obama will be reelected," Crotty said.
The Jan. 19 debate had multiple news…» Read More