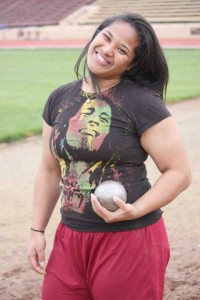 Perspiration drips from her face and the muscles and veins in her arms and legs twitch with each lift and lurch of a training weight. She isn't slim and slender like a fashion runway model, but Ellie Fanaika doesn't care because, for the sport she participates in, she can't have a slender physique.
Fanaika just laughs, smiles a wide, bright grin and continues to pump more than 200 pounds of iron in preparation for the shot put she is going to thrust through the air.
Fanaika, 19, is a thrower for the women's track and field team. She specializes in throwing the shot put, hammer and discus. Though the sport demands a muscular build, she is still feminine. Lifting weights doesn't retract from her femininity—it enhances it.
"Athletes come in a lot of different sizes, and I'm proud to be breaking the stereotype that women athletes are thin and slim because I'm far from that—I'm a bigger, thicker version, yet I'm still an athlete," says Fanaika, an undecided major. "I don't feel like a buff man when I throw in the track meets."
According to her cousin Ignatius Smith, a City College psychology major, Fanaika is an inspiration to all…» Read More