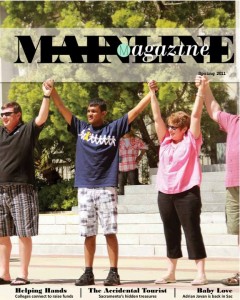 A new issue of Mainline, the City College student run magazine that covers issues relating to the campus and its students, staff and faculty, hit the campus news racks May 9.
"I think it gives them [City College students] a glimpse into elements of the campus they might not know about," said first year, class adviser Rachel Leibrock who is also a weekly columnist for Sacramento News & Review. "You can hold onto it and read it at your leisure, it has more permanence than the newspaper does."
Founded in 1995 by former City College students Doug Herndon and Paul Estabrook, Mainline has typically come out once a semester, which is different from the campus newspaper, the Express, which comes out every other week.
Leibrock says this extra time students spend working on the publication ultimately means a better publication.
"You essentially have half a semester to plan it [Mainline] out…We really put a lot of effort into it," Leibrock said.
"Give it a chance, pick up Mainline," advises Mainline Editor in Chief Stephanie Rodriguez. "Read one story and I guarantee you'll read another."
Student who are interested in joining Mainline or just want to look at content, including full issues and stories, go to www.sacmainline.com.