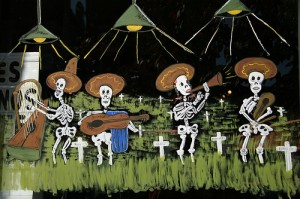 Local downtown Latino art and cultural center La Raza Galeria Posada is presenting a two-day event Oct. 29-30, serving as a culmination of art exhibitions and workshops in commemoration of Dia de los Muertos, also known as the Day of the Dead.
The celebration displays 70 large colorful altars built by local artists and will include workshops set up for children with various crafts, such as mask-making and live acoustic music, as well as a DJ.
The event, Panteon de Sacramento (Sacramento's Cemetery), will be held on Oct. 29 from 8 a.m.-8
p.m. and Oct. 30 from 11 a.m.-11 p.m. at 1015 20th St. in the parking lot behind KlickNation (formerly the Sacramento News and Review).
"I think that when students or people of any age learn about other cultures what results from that is an appreciation of the fact that were all human beings all living on the earth," Mindy Giles, gallery media director and publicist said. "It's a connecting factor that allows us not to see other people as 'other,' something you can read about in class, but you can feel it at events like this."
The Day of the Dead is most commonly celebrated in Mexico,…» Read More