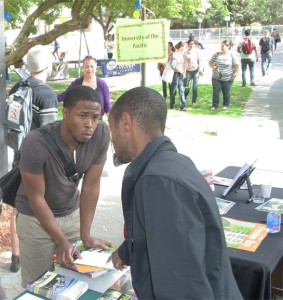 Sixty colleges and universities from California and other states sent representatives to the City College quad Oct. 3 for Transfer Day.
California State University, Sacramento, UC Davis, University of New Mexico, Chico State and Cal Poly, among many others, had information tables on the quad.
"It's no coincidence that all these great schools were in attendance either because City College looks for schools [to come to Transfer Day] where students have the best chance of succeeding," said City College Transfer Center Director, Richard J. Erlich.
"We really focus on [colleges with] strong graduation and retention rates, low student default rates, and regionally credited," Erlich said.
Transfer Day gives some City College students a chance to make educational plans once they finish their schooling at City College.
William Ratliff, who is pursuing a double major in political science and anthropology, said, "I would like to get into U.C. Berkeley, but it's kind of a gamble, so I have decided to sign with U.C. Davis."
Some students hadn't decided what schools they wanted to apply to after finishing at City College.
"I want to go somewhere in the Bay Area and pursue my nursing degree," said Alana Sernholt.