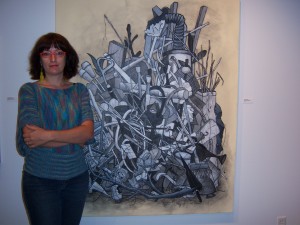 In artist Gioia Fonda's neighborhood mounds of dated fitness equipment, three-legged plastic chairs, children's bikes are caked with rust and other household amenities line the sidewalks.
These piles are a constant reminder of the housing foreclosure crisis. Unable to ignore the trash, Fonda decided to bring a pile to the California State Fair for all to see. Luckily for the jurors of the Fine Art Exhibit, Gioia Fonda's pile was drawn on a 6-by-8 foot sheet of canvas.
California Fine Art, the juried art show of the California State Fair announced June 22 that this year's Juror's Award and Best of Show award was given to City College art professor Gioia Fonda, 37, for her charcoal drawing "Pile, With Soccer Ball," a two-dimensional representation of the heaps of trash she saw left behind from by recently departed families.
"I think it is making a comment on the housing crisis. There is also a comment on consumerism and waste," Fonda explained. "There is, of course, a personal tragedy with each of those piles, but also scientifically you can look at it as an indicator of other things going on."
Approximately 1,474 artists from California submitted pieces that included 2D artwork, photography,…» Read More